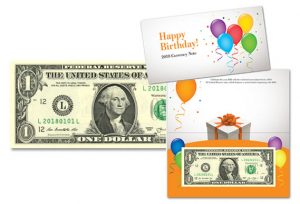 If you're looking for a unique yet inexpensive gift for birthdays, the Bureau of Engraving and Printing (BEP) has a brand new money product you may want to check out.
The BEP is now selling the "2018 Happy Birthday Currency Note" which features an uncirculated $1 Federal Reserve note with a serial number beginning with "2018."
Priced at $5.95, the dollar is presented in an attractive birthday-themed folder and protected by a clear, acid-free polymer sleeve.
Last year's Happy Birthday $1 note is out of stock and those for 2016 sold out.
Ordering
Place orders using the BEP's online store  www.moneyfactorystore.gov, or by calling 800-456-3408.
BEP money products are also available by telephone (1-800-456-3408), by fax (1-888-891-7585), International fax (202-874-1788), at the Washington, DC and Fort Worth, Texas Visitor Center Gift Shops; and by mail order at:
Bureau of Engraving and Printing
Mail Order Sales, 515M
14th and C Streets SW
Washington, DC 20228
The BEP ships free and does not charge tax.
About the BEP
While the Bureau of Engraving and Printing makes and sells detailed intaglio prints and engravings, it is best known for producing United States currency. The bureau prints billions of Federal Reserve Notes each year for delivery to the Federal Reserve System. These notes are produced at facilities in Washington, DC, and Fort Worth, TX.