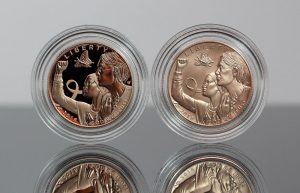 Introductory prices are ending later today, April 16, for the gold, silver and clad 2018 Breast Cancer Awareness Commemorative Coins.
Regular U.S. Mint pricing for the collector proof and uncirculated coins go into effect after 3:00 p.m. ET. At that time, each coin's price will rise by $5.
Here's a table summarizing current prices and latest sales by coin:
PRICES
% OF LIMITS SOLD
INDIVIDUAL SALES (COINS)
INDIVIDUAL SALES ($)
Breast Cancer Awareness Proof Gold $5 Coin
$431.00
23.8%
(11,891 of 50,000)
8,247
$3,554,457.00
Breast Cancer Awareness Uncirculated Gold $5 Coin
$421.00
3,644
$1,534,124.00
Breast Cancer Awareness Proof Silver Dollar
$51.95
8%
(31,867of 400,000)
22,904
$1,189,862.80
Breast Cancer Awareness Uncirculated Silver Dollar
$48.95
8,963
$438,738.85
Breast Cancer Awareness Proof Clad Half Dollar
$27.95
1.8%
(21,934 of 750,000)
13,526
$378,051.70
Breast Cancer Awareness Uncirculated Clad Half Dollar
$25.95
8,408
$218,187.60
TOTALS
65,692
$7,313,421.95
As directed by the commemoratives' authorizing act, Public Law 114-148, coin prices include surcharges of $35 per gold coin, $10 for each silver dollar, and $5 per clad half-dollar. Provided the coins turn a profit, the collected surcharges will be paid to the Breast Cancer Research Foundation (www.bcrfcure.org) to further its efforts in breast cancer research.
Visit the U.S. Mint's commemorative page for more information or to place coin orders.