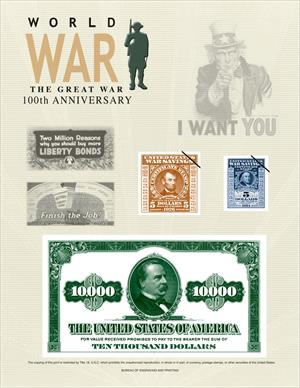 The Bureau of Engraving and Printing (BEP) this month started selling its 2018 Homefront Intaglio Print, the second of three cards from its WWI Centennial collection.
This year's series recognizes the 100th anniversary of World War I with three prints titled Entry, Homefront, and Victory. The first Entry print launched in January.
"The Treasury Department issued Liberty Loans and Victory Bonds produced by the Bureau of Engraving and Printing to assist with financing the Great War," the BEP recounts. "This collection highlights inspiring allegorical and historical figures featured on these bonds, engraved American iconography, and currency issued during the War."
Priced at $22.50 and measuring 8 1/2″ x 11", the Homefront Intaglio Print features several major decorative designs. As desribed by the BEP:
Top Right – Uncle Sam "I Want You" War poster by artist James M. Flagg, 1917.

Center Left – Buy Liberty Bonds Poster showing soldiers in a victory parade, 1918.

Top Left – War poster showing a dedication ceremony at which a keystone labeled Victory Liberty Loan is hoisted into an arch.

Center Left – $5 War Savings Certificate Stamp, Series 1921 Engraved by Charles K. Burt, G. F. C. Smillie, John T. Guilfoyle, Joachim C. Benzing, Edward E. Myers, and William B. Wells.

Center Right – $5 War Savings Certificate Stamp, Series 1919 Engraved by G. F. C. Smillie, Marcus W. Baldwin, Edward M. Hall, and Harry L. Chorlton.

Bottom – Header of the $10,000 Victory Loan, 3 ••• % Engraved by Carl T. Arlt, Charles M. Chalmers, John T. Guilfoyle, Edward M. Hall, Edward E. Myers, and G. F. C. Smillie.
The third card for Victory debuts on Aug. 14, 2018 in conjunction with BEP's participation at the ANA World's Fair of Money show in Philadelphia, Pennsylvania.
Quantity Discounts and Ordering
Quantities of 10 or more prints are available for $17.00 each. The complete three-card collection is sold at a discounted $51.00.
Order one of more 2018 Homefront Intaglio Prints by visiting the BEP's website at: www.moneyfactorystore.gov/intaglioprints.aspx. They started shippping today.
BEP money products may also be ordered by telephone at 1-800-456-3408; by fax 1-888-891-7585 [International fax 202-874-1788]; at the Washington, DC and Fort Worth, Texas Visitor Center Gift Shops; and by mail at:
Bureau of Engraving and Printing
Mail Order Sales, 515M
14th and C Streets SW
Washington, DC 20228
The BEP ships free and does not charge tax.
About the BEP
While the Bureau of Engraving and Printing makes and sells detailed intaglio prints and engravings, it is best known for producing United States currency. The bureau prints billions of Federal Reserve Notes each year for delivery to the Federal Reserve System. These notes are produced at facilities in Washington, DC, and Fort Worth, TX.