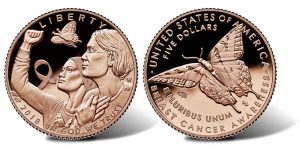 First-day sales of the six different 2018 Breast Cancer Awareness Commemorative Coins combined to 37,778, according to United States Mint spokesman Michael White.
Released Thursday, available options include $5 pink gold coins — a first for the U.S. Mint, silver dollars and clad half-dollars in collector qualities of proof and uncirculated.
Each of the pinks gold coins originally had an order limit of 1 per household. The Mint lifted those restrictions on Friday.
Here's a table summarizing the sales by coin:
First-Day Sales of Breast Cancer Awareness Commemorative Coins
DEBUT PRICES
% OF LIMITS SOLD
INDIVIDUAL SALES (COINS)
INDIVIDUAL SALES ($)
Breast Cancer Awareness Proof Silver Dollar
$51.95

4.5%
(17,957 of 400,000)

12,479
$648,284.05
Breast Cancer Awareness Uncirculated Silver Dollar
$48.95
5,478
$268,148.10
Breast Cancer Awareness Proof Clad Half Dollar
$27.95
1.8%
(13,529 of 750,000)
8,435
$235,758.25
Breast Cancer Awareness Uncirculated Clad Half Dollar
$25.95
5,094
$132,189.30
Breast Cancer Awareness Proof Gold $5 Coin
$431.00
12.6%
(6,292 of 50,000)
4,176
$1,799,856.00
Breast Cancer Awareness Uncirculated Gold $5 Coin
$421.00
2,116
$890,836.00
TOTALS
37,778
$3,975,071.70
Ordering
Buy the coins from the U.S. Mint's online page for commemorative products. Orders are also accepted by telephone at 1-800-USA-MINT (872-6468)
CoinNews will publish photos of the coins next week.