Paper Money Guaranty® (PMG) has certified and encapsulated 2.5 million notes, the third-party grading service announced Wednesday, Jan. 17. The milestone happened less than 7 months after the company certified 2 million notes.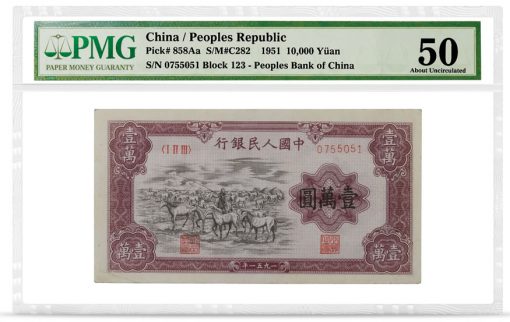 PMG's speed of growth is accelerating, considering it took 10 years to reach 1 million notes graded, and less than 3 more years to reach 2.5 million notes graded.
"We are honored by the trust that collectors and dealers around the world have placed in our services," said Steven R. Eichenbaum, CEO of PMG. "We will continue to adhere to the principles and practices that have earned us our position in the marketplace."
PMG's expert graders have certified a number of remarkable notes over the years, including the historic Serial Number 1 1861 $10 Demand Note from Philadelphia, which was graded PMG 30 Very Fine EPQ, and an extremely rare People's Republic of China 1951 10,000 Yuan, Pick 858Aa, which was graded PMG 50 About Uncirculated.
Rarities certified by PMG have achieved some phenomenal prices over the years. In 2014, a US Series 1891 $1,000 Silver Certificate, graded PMG 25 Very Fine, sold in a private sale for $2.6 million. Just this month, a US 1882 $1,000 Gold Certificate, Fr#1218e, graded PMG 30 Very Fine, realized $600,000 at an auction in Florida.
About PMG
Founded in 2005, PMG maintains offices in Sarasota, Florida; Shanghai and Hong Kong, China; and Munich, Germany, as well as a global network of Official Submission Centers. Every note that PMG certifies is encapsulated in a transparent, high-quality holder, and is backed by the comprehensive PMG Guarantee, which guarantees that the note is genuine and not overgraded.