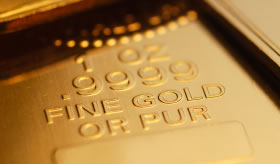 Precious metals declined on Friday but they posted at least modest weekly gains. Gold scored its first weekly advance in four weeks.
Gold for December delivery on Friday fell $13.30, or 1%, to finish at $1,274.20 an ounce on the Comex division of the New York Mercantile Exchange.
"In my view the fall in gold is profit-taking before the close of the week and also the inability to break past $1,293 resistance," MarketWatch quoted Chintan Karnani, chief market analyst at Insignia Consultants, based in New Delhi.
Gold futures climbed 0.4% this week after three straight weekly losses drove prices down by a combined 2.7%. The yellow metal's peak settlement this week on Thursday at $1,287.50 an ounce was its strongest since Oct. 19. Gold prices have advanced 10.6% so far this year.
In looking ahead to next week, Kitco News offers the following forecasts via their Wall Street vs. Main Street survey:
"A total of 21 market professionals took part in the Wall Street survey. Eighteen, or 86%, called for gold to rise. Three participants, or 14%, called for gold to be sideways or were neutral.

Meanwhile, 645 votes were cast in an online Main Street poll. A total of 411 voters, or 64%, looked for gold to rise in the next week. Another 146, or 23%, said lower, while 88, or 14%, were neutral."
Kitco noted that the lack of a single analyst or trader expecting lower gold prices in a week was the first instance in about seven years since their poll began.
Elsewhere, silver for December delivery dropped 10.4 cents, or 0.6%, to settle at $16.871 an ounce. Silver futures edged up 0.2% this week after rising 0.5% last week. They fell in each of the two weeks before then with matching 1.9% losses. Silver prices are 5.5% higher on the year to date.
In PGM futures on Friday and for the week:
January platinum declined $8.50, or 0.9%, to $932.10 an ounce, but scored a 1.1% weekly increase.

Palladium for December delivery lost $11.30, or 1.1%, to $993.10 an ounce, but inched up 0.2% on the week. On Wednesday, the precious metal ended at $1,015.80 an ounce for its best settlement since February 2001.
Both metals are higher on the year so far with gains of 2.9% for platinum and 45.3% for palladium.
London Precious Metals Prices
London precious metals prices ended mostly lower on Friday bust mostly higher on the week. In comparing their levels from Thursday PM to Friday PM:
Gold dipped 50 cents, or less than 0.1%, to 1,284.30 an ounce.
Silver declined a dime, or 0.6%, to $17 an ounce.
Platinum added $3, or 0.3%, to $937 an ounce.
Palladium fell $16, or 1.6%, to $1,000 an ounce.
For the week, silver lost 0.5% and other London bullion prices advanced by 1.4% for gold, 1.6% for platinum and 0.5% for palladium.
US Mint Bullion Sales in 2017
United States Mint bullion sales were mixed this week compared to last week — slightly stronger for silver coins and halved for gold coins. In headline weekly comparisons:
Gold coins climbed by 2,000 ounces this week compared to 4,000 ounces last week. Splits include 1,500 ounces in American Gold Eagles versus 2,500 ounces previously, and 500 ounces in American Gold Buffalos compared to 1,500 ounces previously.

Silver coins rose by 90,000 ounces after rising by 40,000 ounces last week. American Silver Eagles accounted for all silver sales each week.
Below is a sales breakdown of U.S. bullion products with columns listing the number of coins sold during varying periods. Products with an asterisk (*) are no longer available.
US Mint Bullion Sales (# of coins)
Friday
Last Week
This Week
October
November
YTD
$100 American Eagle 1 Oz Platinum Coin
0
0
0
0
0
20,000
$25 American Eagle 1 Oz Palladium Coin*
0
0
0
0
0
15,000
$50 American Eagle 1 Oz Gold Coin
0
2,000
1,500
11,000
2,500
183,500
$25 American Eagle 1/2 Oz Gold Coin
0
0
0
2,000
0
32,000
$10 American Eagle 1/4 Oz Gold Coin
0
0
0
2,000
0
58,000
$5 American Eagle 1/10 Oz Gold Coin
0
5,000
0
30,000
0
360,000
$50 American Buffalo 1 Oz Gold Coin
0
1,500
500
7,000
500
84,000
$1 American Eagle 1 Oz Silver Coin
0
40,000
90,000
1,040,000
90,000
17,028,500
2017 Effigy Mounds 5 Oz Silver Coin
0
0
0
0
0
35,000
2017 Frederick Douglass 5 Oz Silver Coin
0
0
0
0
0
20,000
2017 Ozark Riverways 5 Oz Silver Coin
0
0
0
0
0
20,000
2017 Ellis Island 5 Oz Silver Coin*
0
0
0
0
0
40,000