Stack's Bowers Galleries will auction a rare, first issue 1894 British Honduras One Dollar note this January in New York City. Never before publicly offered, the note has been in private hands since the mid 1890s.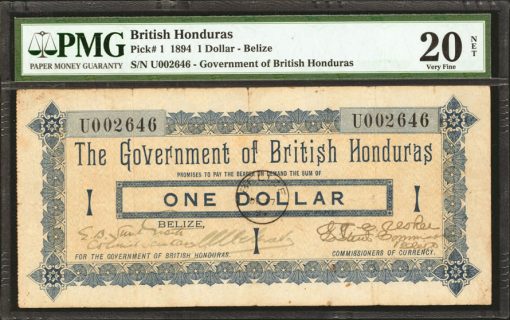 The note will be presented along with other unique coin and paper money rarities as part of the firm's official auction of the 2018 New York International Numismatic Convention. The 46th annual NYINC will be held Jan. 12 to 14 at the Grand Hyatt Hotel, located at 109 East 42nd Street, New York, NY 10022.
1894 British Honduras One Dollar notes are prohibitively rare with just three examples known, including this one. The other two are the Pick plate note, which is in abysmal condition, and one in private hands which is reputed to be part of a private British Honduras collection. No issued example of any of the five higher values has ever come to light.
First issue British Honduras notes in any form are absent from virtually all of the world's greatest collections. This issued 1894 example clearly rivals in rarity, exclusivity, and desirability even such major pieces as the much-vaunted Zanzibar notes.
The 1894 British Honduras issue was withdrawn and destroyed after only two months, while the Zanzibar series ran for 20 years. The note issuance for British Honduras was scaled for an insignificant colonial backwater with a minuscule population and economy, while for centuries Zanzibar was one of the world's major spice sources and slave exporters, and also an international seaport at the nexus of the trade routes of Africa, Arabia, India, and the Orient. Finally, this One Dollar 1894 British Honduras note is the only issued example for 1894 British Honduras in the PMG population report; in contrast, Zanzibar pieces have a much higher population.
This desirable note displays balanced centering and elaborate manuscript signatures are present. It is signed by E.(nerst) B.(ickham) Sweet-Escott, as Colonial Secretary (later Governor) of British Honduras. Additional signatures are C.(arlos) Melhado, and H.(enry) C.(harles) Usher.
The design features stylized floral borders, intricate lathe work (including floral pattern), and stars within circles. Also noted are the Crown above CC (Crown Colony) watermarks. PMG mentions splits and rust in the comments section; these are more noticeable on the reverse. They also mention an "ink stamp." However, PMG did not realize that this stamp is officially printed, indicating city of issue, Belize, and the date, OC(tober) 17, (18)94. The left margin is serrated where the counterfoil was once attached.
The One Dollar note to be offered in the Stack's Bowers auction bears an important, unbroken provenance to Albert E. Morlan, the American Consul in the city of Belize, British Honduras through two appointments in the late 19th century. Morlan was born in 1850, into a well-to-do Quaker family whose fortune was lost in the Panic of 1857. His father died when Albert was 16 and at age 21, he apprenticed with a German jeweler, where he learned that language along with the trade. At 22, he began work in New Orleans, where he became proficient in French and at 29, he set up a jewelry and general merchandise business in Belize City. In 1882, based on his sterling ("NPI") reputation, he was appointed U.S. Consul there by President Chester A. Arthur. Morlan resigned his post in order to re-establish his business in New Orleans, with branches in Belize and elsewhere in Central America.
In 1895, President Grover Cleveland re-appointed him as consul, where he distinguished himself and his office by submitting to the U.S. Government insightful reports on trade. He facilitated varied commercial initiatives in Belize by American businesses, and promoted bi-lateral export and import between British Honduras and the United States. He became widely known in the highest political, business, and social circles for his engaging personality and language skills, and created much good will toward the United States, a commodity often in short supply in Central America.
The paper money collecting community is fortunate that Consul Morlan was present during the brief 1894 note emission, and safeguarded this extraordinary example for posterity. At his death in 1926, this note was bequeathed by him to his son, Edward Morlan, from Edward to his son, Charles Morlan, and from Charles to his daughter, our consignor and the great granddaughter of Albert.
This important British Honduras note will be a highlight of the Stack's Bowers Galleries January 12-13 International Auction in New York City. For more information, call 800-458-4646 or visit the firm's website at StacksBowers.com.