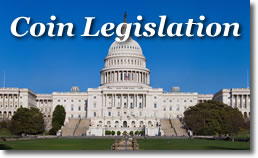 Companion House and Senate bills are seeking silver dollars to commemorate John F. Kennedy, the 35th President of the United States. Kennedy served from January 1961 until his assassination in November 1963.
Named the "President John F. Kennedy Commemorative Coin Act," the House (H.R.3274) and Senate (S.1568) bills call for up to 500,000 silver dollars with designs emblematic of JFK's life and legacy. The United States Mint would produce them in collector qualities of proof and uncirculated and offer them for sale during calendar year 2020.
The bills were introduced on July 17, 2017 by Senators Edward J. Markey (D-MA) and John McCain (R-AZ) and Reps. Kevin McCarthy (CA-23) and Joseph P. Kennedy III (MA-04). The lawmakers, members of the John F. Kennedy Centennial Commission, introduced the legislation as part of this year's President Kennedy Centennial celebration (jfkcentennial.org). Kennedy was born in Brookline, Massachusetts on May 29, 1917.
"My family and I are grateful for the efforts of Senator Markey, Senator McCain, Majority Leader McCarthy, Congressman Kennedy, and the members of the John F. Kennedy Centennial Commission for their leadership in introducing legislation to mint a coin in honor of my father," Ambassador Caroline Kennedy said in a statement.

"As President Kennedy becomes a part of history, we hope that the coin may be an enduring symbol of his call for service and the idea that each of us can make a difference."
Designs for the commemorative coins would be reviewed by the Citizens Coinage Advisory Committee and selected by the Secretary of the Treasury after consulting with the John F. Kennedy Library Foundation and the Commission of Fine Arts.
The $1 coins would be minted in at least 90% silver to a weight of 26.73 grams and a diameter of 1.500 inches. They would also bear standard inscriptions designating their face value and 2020 for the year of issue, plus Liberty, In God We Trust, United States of America, and E Pluribus Unum.
Each silver dollar sold would include a $10 surcharge to support the John F. Kennedy Presidential Library and Museum (www.jfklibrary.org).
Both pieces of legislation were referred to committees. For the act to become law, it must pass in the House and Senate and get signed by the President.
2014-Dated Coin Celebrated 50th anniversary of Kennedy 50c Series
Every year since 1964, the U.S. Mint has struck Kennedy half-dollars in circulation quality, along with related collector versions. In addition, the U.S. Mint in 2014 released three special products to celebrate the 50th anniversary of the series.
Those products included a 2-coin anniversary clad uncirculated set, a 4-coin anniversary silver coin collection, and an anniversary proof gold half-dollar.