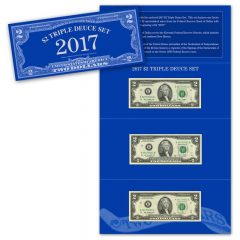 At 8:00 a.m. ET today, June 14, the Bureau of Engraving and Printing (BEP) will release a set of three $2 bills with matching serial numbers that begin with "2017."
Named the 2017 $2 Triple Deuce Currency Set, interested money collectors should order it as soon as possible because these types of products tend to sell quickly.
Limited to 3,500 worldwide, sets are priced at $59.95 each. If any remain available after the pre-release period of June 14 to 20, the BEP will offer bulk-pricing of $54.95 for quantities of five or more. The per-household ordering limit of 5 sets would also be waved on June 21.
Inside the 2017 $2 Triple Deuce Set's four-panel presentation folder are a Series 2013 and two Series 2009 $2 uncirculated notes from the Federal Reserve Bank of Dallas. Each Federal Reserve note is protected by a clear acid-free polymer sleeve.
Ordering
When released, the set may be ordered online by visiting the BEP's website at www.moneyfactorystore.gov.
BEP money products are also available by telephone at 1-800-456-3408; by fax 1-888-891-7585 [International fax 202-874-1788]; at the Washington, DC and Fort Worth, Texas Visitor Center Gift Shops; and by mail at:
Bureau of Engraving and Printing
Mail Order Sales, 515M
14th and C Streets SW
Washington, DC 20228
The BEP ships free and does not charge tax.