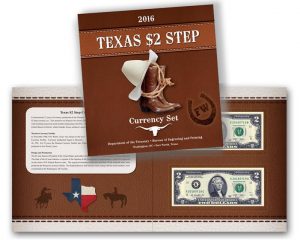 The Bureau of Engraving and Printing (BEP) on Tuesday released a new product for money collectors, the Texas $2 Step Currency Set.
Limited to 6,500 sets, the collection includes two Series 2009 $2 notes from the Dallas Federal Reserve Bank with matching numerical serial numbers beginning with "2016xxxx."
This set commemorates 25 years of currency production at the BEP's Western Currency Facility in Fort Worth, Texas. The city was selected for money production in November 1986; the facility started printing money in December 1990; and the site was officially dedicated on April 26, 1991. The BEP has one other production location, the Eastern Currency Facility in Washington, DC. Notes printed in Fort Worth have an added "FW" mark by the face plate number.
Product pricing is $39.95, with a 10-set limit per household in effect until July 26 when the sets start shipping. Place orders using the BEP's online store, www.moneyfactorystore.gov, or by calling 800-456-3408. Sets ship free.
Each note is protected by a clear, acid-free polymer sleeve and presented in a Texas-themed folder.
About the BEP
The BEP is the largest producer of security documents in the United States. It prints billions of Federal Reserve Notes each year for delivery to the Federal Reserve System. It also produces products for collectors to include intaglio prints, vignettes, and presidential portraits.