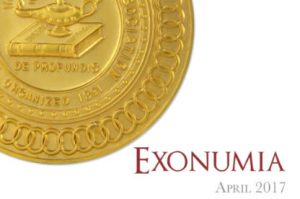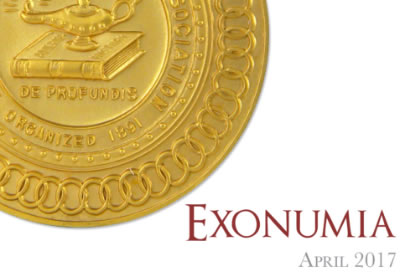 Kolbe & Fanning published its first catalogue devoted to numismatic exonumia, including medals, tokens, badges, scrip and related items that pertain in some way to the coin collecting field. Catalog items are available for immediate purchase.
Listed items include tokens issued by coin dealers or collectors, medals depicting prominent collectors or scholars, "Good For" tokens or scrip issued by coin firms, and badges produced for coin shows.
"Much of the material included in this catalogue was collected by our founder, George F. Kolbe," the company describes. "Some of it is very rare. Some of it is quite obscure. We think it is all very interesting and a lot of fun to boot, and we hope you agree."
A few highlights from the 90-lot catalogue include:
Lots 1 & 2: 1873 Boston Numismatic Society medals in brass and copper
Lot 5: a rare piece advertising Dickeson's Coin & Medal Safe
Lot 6: a William Idler store card in silver
Lot 8: an unlisted store card for F.C. Key & Sons, die sinkers & medalists
Lot 16: a scarce gem uncirculated W. Elliot Woodward 5-cent scrip, graded PMG 65 EPQ
Lot 41: a rare Tom Elder token commemorating the 1910 ANA Convention & his Peter Mougey sale (the list includes several other Elder tokens)
Lot 64: serial number 2 of the New York Numismatic Club's first medal, honoring Frank C. Higgins
Lot 65: the New York Numismatic Club medal honoring F.C.C. Boyd
Lot 79: a 1921 ANA Convention medal
Lot 82: V. Leon Belt's unique gold ANA President's Medal, weighing about one troy ounce and struck in .900 gold.
The exonumia catalogue is being published only in PDF form and is available for download right here.
Kolbe & Fanning regularly issues fixed price PDF catalogs. Sign up for the company's mailing list at numislit.com.