The Perth Mint of Australia introduced two new 1oz silver bullion products this month, a Koala coin with a miniature kangaroo as a privy mark and a coin bearing a brand new swan design.
Both feature very low mintages — only 50,000 for the Koala coin and just 25,000 for the Silver Swan coin.
2017 Australian Koala with Kangaroo Privy 1oz Silver Bullion Coin
The reverse (tails) of the new Koala coin looks like the standard 1oz and 1 kilo versions issued for this year, depicting a koala sitting at the base of a eucalyptus tree. In the key difference, the standard coins show a second tree in the background whereas the newest coin has the unique kangaroo privy mark instead of the tree. Reverse inscriptions for the new piece include AUSTRALIAN KOALA, 2017, and 1oz 999 SILVER.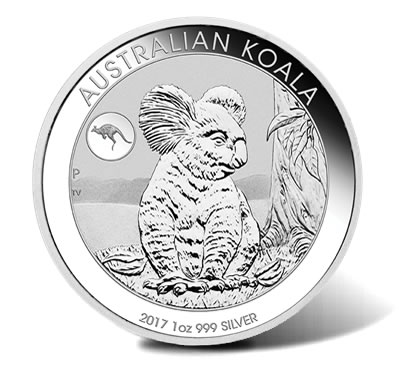 Coins often carry a small mintmark, usually a single letter, to identify where they are made. In the early 1990s, the Perth Mint began adding tiny privy mark symbols to some limited-edition coins to increase their numismatic appeal.
2017 Australian Silver Swan 1oz Bullion Coin
The new Silver Swan coin shows the graceful bird in its wetland habitat. In classic profile — much like the Perth Mint's logo, the portrayal displays the swans long neck with broad wings tucked together on its back. Reverse inscriptions include THE 1OZ 9999 SILVER AUSTRALIAN SILVER SWAN.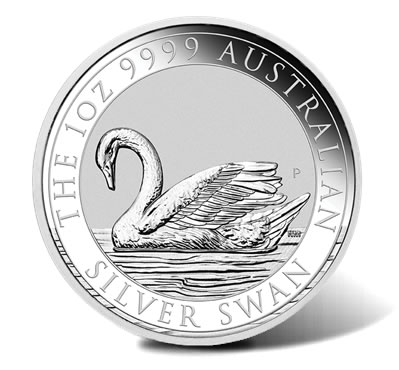 Obverses (heads) of both the Koala and Swan coins have the Ian Rank-Broadley effigy of Her Majesty with inscriptions of ELIZABETH II, AUSTRALIA, 2017, and 1 DOLLAR.
Perth Mint-provided specifications for the pair are:
Precious Metal Content (troy oz): 1.000
Mint Mark: P
Quality: Reverse Proof
Fineness: 99.99% purity for Swan coin and 99.9% for Koala coin
Weight (g): 31.107 for Swan coin and 31.135 for Koala coin
Denomination: 1.00
Diameter (mm): 40.600
Standard Thickness (mm): 4.000
The two bullion coins are listed on perthmintbullion.com. However, the Silver Swan coin is shown as "out of stock" and is now selling in the secondary market from about $47 to $60.