Legend Rare Coin Auctions realized $373,368 from its March Premier Session Internet Only Auction, the company announced Friday, Mar. 17.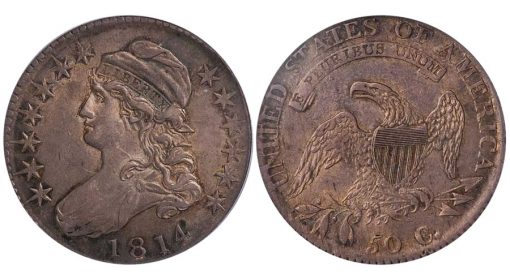 The 13-day online event ended Thursday, Mar. 16, and presented a wide variety of coins, including high-end bust half dollars.
"The results show yet again that you do not need to have thousands of coins to have big results," said Julie Abrams, president of Legend Auctions. "Provide hand selected, high-end quality coins with accurate photos and descriptions, and the bidders will show up in spades."
Additional auction highlights include, but are not limited to:
Lot 13 — 1C 1877 PCGS MS64 BN CAC. Realized $9,350 on a $7,000 estimate
Lot 63 — 25C 1842-O Large Date. PCGS AU53 CAC. Realized $1,760 on a $750 estimate
Lot 66 — 25C 1911 PCGS PR66+ CAM CAC. Realized $3,740 on a $2,750 estimate
Lot 82 — 50C 1814 PCGS AU55 CAC. Realized $6,325 on a $4,000 estimate
Lot 87 — 50C 1834 Small Date, Small Letters PCGS AU58+ CAC. Realized $3,630 on a $1,000 estimate
Lot 124–$1 1878-CC NGC MS64 DMPL CAC. Realized $2,310 on a $1,750 estimate
Lot 139 — Proof Set 1955 NGC PR69. Realized $1,760 on a $1,000 estimate.
Legend's next Premier Session, ending April 6, is now closed for consignments. A listing of lots will soon be available at www.legendauctions.com. Some highlights for the sale include:
1/2C 1811 PCGS VF35 CAC
1C 1868 PCGS MS65+ RB CAC
1C 1892 PCGS MS65 RD CAC-Eagle Eye Photo Seal
1C 1910 PCGS MS67+ RD CAC
2C 1864 Small Motto. PCGS MS65 BN CAC
H10C 1794 PCGS XF45 CAC
H10C 1843 PCGS MS66 CAC
25C 1869-S PCGS AU55 CAC
25C 1909 PCGS PR67+ CAC
50C 1880 PCGS PR66 CAM
50C 1942 PCGS PR68 CAC
$3 1862 PCGS AU58+ CAC
$3 1864 PCGS AU58 CAC
25C 1870 J-919. PCGS PR65+ CAC Ex Eliasberg-Simpson
All lots for the session will be available for viewing at the Whitman Baltimore Expo, table 643, from March 30 to April 1.