Arctic terns take flight in the newest release of the Royal Canadian Mint's Glistening North Series with the 2017 $20 Arctic Tern Silver Coin. Each is produced from one ounce of 99.99% pure silver to proof quality, with a combined 7,500 allowed.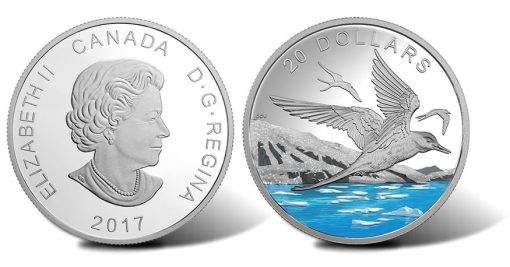 Adding to the desirability and uniqueness of the coin, its reverse (tails side) design features a selective application of fine diamond particles to recreate the light reflecting qualities of snow and ice in the sunlight.
"Hold it in your hand and turn it slowly and watch how the diamond glitter catches the light," exclaims the Royal Canadian Mint on the coin's product page.
Arctic terns undertake an incredible annual migration not matched by any other bird species. Each year they travel 40,000 kilometers as they summer in the Arctic zones of Canada before migrating to Antarctica for the winter.
This coin is the second in the Mint's Glistening North Series. The first coin of the program depicts a polar bear design. Its product page shows 37 customer reviews with a rating total of 4.6 out of 5.0.
Coin Designs and Specifications
Featured on the reverse of the coin are three terns in flight, as a reminder that these birds tend to nest in colonies. They fly over the water below with Canada's northern coastline appearing behind.
Selective diamond glitter has been added to the hilly coastline to reflect light as snow and ice would do in the sunlight. The glitter has been sealed to preserve its reflective qualities.
Canadian artist Derek C. Wicks designed the reverse image. His artist's initials, DCW, are seen to the left while the inscription of 20 DOLLARS is overhead.
As legal tender of Canada, Susanna Blunt's portrait of Queen Elizabeth II is found on the obverse (heads side). Inscriptions around the effigy include ELIZABETH II, CANADA, D G REGINA and 2017.
Specifications for each coin, as provided by the Royal Canadian Mint, are as follows:
Mintage: 7,500
Composition: 99.99% pure silver
Finish: proof
Weight (g): 31.39
Diameter (mm): 38
Edge: serrated
Certificate: serialized
Face value: 20 dollars
Reverse Artist: Derek C. Wicks
Obverse Artist: Susanna Blunt
Ordering
Priced at CAD $114.95, or about US $87.50, the 2017 $20 Arctic Tern 1 oz. Silver Coin may be ordered directly from the Royal Canadian Mint at mint.ca. An affiliate link to the coin's product page is right here.
Each is encapsulated and comes with a clamshell display case and a serialized certificate.