Collectors wanting the commemorative 2012 $20 Queen's Diamond Jubilee Silver Coin will need to act fast.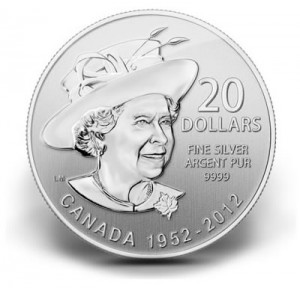 The Royal Canadian Mint is offering the $20 coin for $20 CAD, and a fast sell out is expected. The commemorative series of a $20 for $20 has been extremely popular, with the previous issue selling out in only 25 days.
Adding to their desirability is their 99.99 percent silver composition and that this new $20 coin commemorates the Queen's Diamond Jubilee, the official celebration that marks Queen Elizabeth II's 60 years reign. To sweeten the deal, the Royal Canadian Mint is not charging tax for the coin.
The Royal Canadian Mint produced 250,000 of the Queen's Diamond Jubilee commemorative and is limiting orders to only three coins per household in Canada and the US.
Each silver coin is encapsulated and packaged in a unique, decorative folder that features images of Her Majesty as well as information about the coin and its two designs of The Queen. Also inside the folder is a Certificate of Authenticity.
The coin's obverse, designed by Mary Gillick, shows The Queen as she first appeared on Canadian coinage in 1953. Inscriptions include "ELIZABETH II," "DEI GRATIA REGINA," and, "CANADA."
The reverse depicts a more recent portrait as she looks today, designed by Laurie McGaw. Its inscriptions are, "20 DOLLARS," "FINE SILVER ARGENT PUR 9999," and, "CANADA 1952-2012."
As mentioned earlier, the new silver coin is made of 99.99 percent pure silver. Its weight is 7.96 grams, and its diameter is 27 millimeters. Since the market price of silver on the London Fix was $28.28 USD an ounce on Tuesday, the melt value of the coin is a little more than $7 USD. The coin is actually worth more, however, because it is made for legal tender in Canada and carries a face value of $20.
Collectors interested in the Exchange $20 for $20 may want to act quickly and purchase a commemorative 2012 $20 Queen's Diamond Jubilee Silver Coin either at the Mint's website, www.mint.ca, or by phone one of the following phone numbers.
1-800-267-1871 (Canada)
1-800-268-6468 (US)
(613) 954-2626 (International)