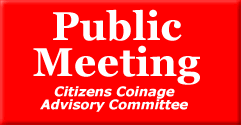 The Citizens Coinage Advisory Committee (CCAC) will hold an hour-long teleconference meeting this Wednesday, Feb. 15, to consider themes for the five 2019-dated coins from the U.S. Mint's series of America the Beautiful Quarters®.
Introduced in 2010, the 56-quarter program celebrates national parks and other national sites throughout the 50 states, the District of Columbia and the five U.S. territories.
Year 2019 marks the series 10th year and the 46th to 50th coins. The quarters will feature reverse designs emblematic of Lowell National Historical Park in Massachusetts, American Memorial Park in Northern Mariana Islands, War in the Pacific National Historical Park in Guam, San Antonio Missions National Historical Park in Texas, and Frank Church River of No Return Wilderness in Idaho.
OSS Congressional Gold Medal
Other agenda topics for the meeting include the consideration of themes for the Office of Strategic Services (OSS) Congressional Gold Medal in recognition of their service and contributions during World War II. The OSS was America's first effort to implement a system of strategic intelligence, preceding the CIA, the U.S. Special Operations Command and the State Department's Bureau of Intelligence and Research.
Meeting Time
The CCAC advises the Secretary of the Treasury on themes and designs pertaining to U.S. coins and medals. Its Feb. 15 meeting begins at 1:00 p.m. and is scheduled to last until 2:00 p.m. (EDT). Interested members of the public may dial in to listen by calling (866) 564-9287 and using Access Code: 62956028. This teleconference is "listen only." No comments or questions will be taken during the meeting.