At noon ET today, Jan. 10, the United States Mint will begin selling two special occasion gift sets, the 2017 Birth Set and the 2017 Happy Birthday Coin Set. Along with their attraction to gift givers, these products offer collectors the first chance to get several 2017-dated coins.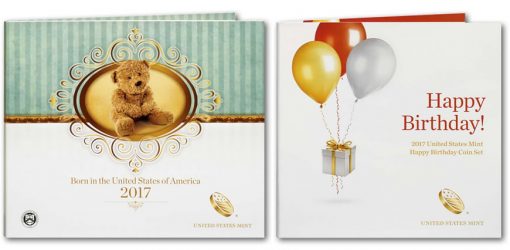 Both sets include five coins struck at the San Francisco Mint, with each coin carrying its 'S' mint mark. Priced at $19.95 apiece, the two sets have the following four coins in common:
2017-S Proof Lincoln Cent
2017-S Proof Jefferson Nickel
2017-S Proof Roosevelt Dime
2017-S Proof Kennedy Half-Dollar
They are in proof finish, which is the Mint's highest quality coin. Designed for collectors, proof coins have frosty design elements and mirror-like backgrounds. The coins are not unique to these two sets, but they will not be available in another collector product until probably late February when the 2017 Proof Set will likely debut.
Sets Include First or Last 2017 Quarter
Both gift sets also have one of this year's five uniquely designed coins from the U.S. Mint's program of America the Beautiful Quarters®.
The Birth Set includes the 2017-S Proof Effigy Mounds National Monument Quarter for Iowa, which depicts an aerial view of mounds in the Marching Bear Group.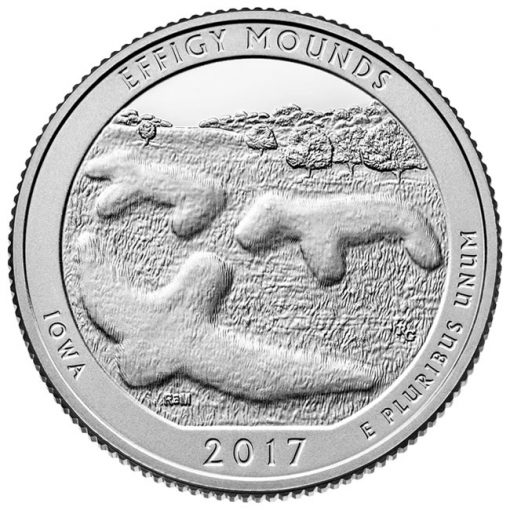 As the first of the five 2017 quarter releases, it will launch into circulation in early February.
The Happy Birthday Coin Set has the 2017-S George Rogers Clark National Historical Park Quarter for Indiana. It shows Clark leading his men through the flooded plains approaching Fort Sackville.
As the last of the 2017 quarters, it is scheduled to start circulating in mid-November.
The two quarters are also within the U.S. Mint's five-coin 2017 Quarters Proof Set. This set was the Mint's first product release of this year, launching on Jan. 5. It is available for $14.95.
Packaging
Coins are encapsulated and mounted on festive folders. The folders allow visibility of the coins' obverses (heads) and reverses (tails).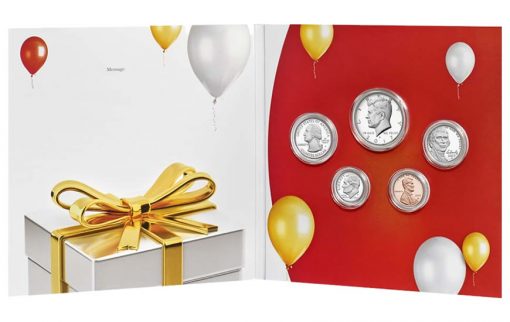 The packaging for the birthday and newborn sets has a designated spot for a personalized message, and the packaging includes a U.S. Mint certificate of authenticity. The Birth Set also has space to hold a 3" x 5" baby photo.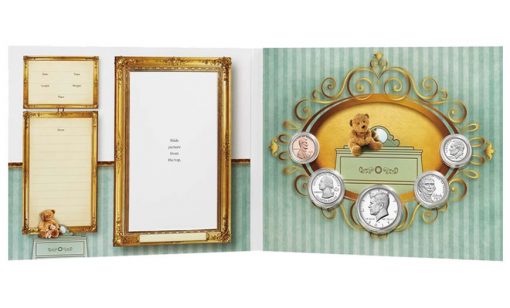 Ordering
Sets are available from the Mint's Gift Ideas section, or by calling 1-800-USA-MINT (872-6468). They have no product or household ordering limits.
Sales of Past Gift Sets
The Birth Set debuted in 2012 and the Happy Birthday Set followed in 2013. Issued annually, several of them remain available. The two tables below show their latest sales.
2012-2016 Birth Sets
| Year of Issue | Latest Sales |
| --- | --- |
| 2012 (sold out) | 49,703 |
| 2013 | 41,811 |
| 2014 | 34,927 |
| 2015 (sold out) | 34,584 |
| 2016 (sold out) | 29,707 |
2013-2016 Happy Birthday Sets
| Year of Issue | Latest Sales |
| --- | --- |
| 2013 | 11,732 |
| 2014 | 13,180 |
| 2015 (sold out) | 14,470 |
| 2016 | 15,782 |
U.S. Mint sales figures above are as of Sunday, Jan. 1, 2017.