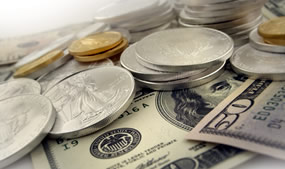 Gold futures snapped a four-session winning streak on the last trading day of 2016, but they still logged their first weekly increase in eight weeks and scored their first annual advance in four years.
Trading activity was largely subdued ahead of next week's holiday-shortened schedule. Most markets are closed Monday in observance of the New Year's Day.
Gold for February delivery on Friday shed $6.40, or 0.6%, to settle at $1,151.70 an ounce on the Comex division of the New York Mercantile Exchange. Prices rose 1.6% this week but declined 1.9% in December.
"Because the stock market has been flirting with the 20,000 range, it's been relatively calm and we haven't gotten the flight to safety trade that we sometimes get with gold," Reuters quoted Jeffrey Sica, president and chief investment officer of Sica Wealth Management.

"Still we are building a position in gold primarily because we think the stock market is going to hit some turbulence … and a major calamity coming out of Europe that's going to cause a lot of money to go into the gold markets."
Gold futures rallied 8.6% on the year after registering annual losses of 10.5% in 2015; 1.5% in 2014; and 28.3% in 2013. In 2012, the yellow metal tacked on 7% for its 12th straight annual increase. Its best 2016 settlement was on Aug. 2 when prices marked a more than 2.3-year high at $1,372.60 an ounce.
"Peering into 2017, the technical pattern for gold prices appears incomplete to the upside MarketWatch quoted Jeremy Wagner, head forex trading instructor at Daily FX.

"I know it seems strange that at a time when the Fed is increasing rates an asset such as gold would outperform the U.S. dollar, [but] according to the Elliott Wave model, the odds are shifting toward higher prices."
Ending lower for the first time in four days, silver for March delivery shed 22.9 cents, or 1.4%, to $15.989 an ounce. Silver futures gained 1.5% on the week, posted a December loss of 3%, and logged an annual increase of 15.8%. The white metal's best settlement in 2016 also happened on Aug. 2 when prices ended at more than a 2-year high at $20.701 an ounce.
Silver also registered three consecutive annual declines before this year — 11.5% in 2015; 19.5% in 2014; and 35.9% in 2013. Prices jumped 8.3% in 2012.
In rounding out precious metals futures trading on Friday and for the week:
April platinum rose $3.30, or 0.4%, to $905.70 an ounce, for a 1.4% weekly gain.

Palladium for March delivery added $7.60, or 1.1%, to $683.25 an ounce, surging 4.3% on the week.
Both metals declined in December — 0.5% for platinum and 11.6% for palladium. In annual results, platinum edged up 1.4% while palladium soared 21.6%.
London Precious Metals Prices
London precious metals prices climbed in a shortened day as UK markets closed early Friday for the New Year's break. When comparing London bullion prices from Thursday PM to Friday AM:
Gold rose $13.20, or 1.2%, to $1,159.10 an ounce.
Silver added 18 cents, or 1.1%, to $16.24 an ounce.
Platinum moved up $9, or 1%, to $907 an ounce.
Palladium gained $6, or 0.9%, to $676 an ounce.
For the week, palladium fell 1.7% while other London metal prices turned up — 2.5% for gold, 3.2% for silver and 0.2% for platinum.
As for December, they all declined. Pricing drops included 1.6% for gold, 2.6% for silver, 1.4% for platinum and 12.2% for palladium.
London precious metals prices surged on the year, however, marking gains of 9.1% for gold, 17.5% for silver, 4% for platinum and 23.6% for palladium.
US Mint 2016 Annual Bullion Coin Sales
Demand for United States Mint bullion products was again strong in 2016, exceptionally so for American Gold Eagles. Here is a summary of 2016 bullion sales by product:
American Eagle silver coins reached 37.7 million ounces for their fifth highest sales year. 2016 Silver Eagles ran at a record pace through almost the first half of this year. Demand dropped after and to a level where the U.S. Mint stopped rationing how many they sold. 2016 sales dropped 19.8% from the 47 million sold in record year 2015. The silver coins have been produced annually since 1986.

American Eagle gold coins hit sales of 985,000 ounces for their strongest year since 2011. Also introduced in 1986, the U.S. Mint strikes American Gold Eagles in four formats. The three most popular sizes sold out by Dec. 6. Year-over-year, the series jumped 22.9% from the 801,500 ounces sold in 2015.

American Buffalo gold coins posted 2016 sales of 219,500 ounces, their fourth best annual total and 0.5% higher than 2015 sales of 220,500 ounces. The two highest years were in 2013 at 239,000 ounces and the coin's debut year in 2006 at 323,000 ounces.

America the Beautiful 5-ounce silver bullion sales totaled 285,900 coins, their second highest annual amount and 34.5% stronger than 2015 sales of 212,600 coins. Their best year happened in 2011 at 465,100 coins.

American Eagle platinum coins totaled 20,000 ounces, and were available only in the months of July and August. The series was introduced in 1997 as an annual product for investors but has not always been issued. Most recently, it was again absent from the U.S. Mint's product lineup in 2015.
The U.S. Mint will begin taking orders for 2017-dated American Eagle and American Buffalo bullion coins on Monday, Jan. 9.
Below is a sales breakdown of U.S. Mint bullion products with columns listing the number of coins sold during varying periods. Products with an asterisk (*) are no longer available.
US Mint Bullion Sales (# of coins)
Friday / This Week
Last Week
Nov Sales
Dec Sales
2016 Sales
$100 American Eagle 1 Oz Platinum Coins*
–
20,000
$50 American Eagle 1 Oz Gold Coins*
–
129,000
23,000
817,500
$25 American Eagle 1/2 Oz Gold Coins
0
0
7,000
3,000
74,000
$10 American Eagle 1/4 Oz Gold Coins*
–
18,000
2,000
152,000
$5 American Eagle 1/10 Oz Gold Coins*
–
105,000
40,000
925,000
$50 American Buffalo 1 Oz Gold Coins
0
2,500
29,500
12,500
219,500
$1 American Eagle 1 Oz Silver Coins*
–
3,061,000
240,000
37,701,500
2016 Shawnee 5 Oz Silver Coins*
–
105,000
2016 Cumberland Gap 5 Oz Silver Coins*
–
75,000
2016 Harpers Ferry 5 Oz Silver Coins
0
0
1,500
100
38,100
2016 Theodore Roosevelt 5 Oz Silver Coins*
–
6,600
800
40,000
2016 Fort Moultrie 5 Oz Silver Coins
0
0
27,800
0
27,800