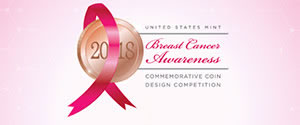 Artists have just a few more days to enter the United States Mint's competition to design the 2018 Breast Cancer Awareness Coins. Applications must be submitted online no later than Monday, Oct. 17, 2016.
U.S citizens and permanent residents who have experience or interest in visual arts, illustration or sculpting and who are at least 18 years of age are encouraged to enter the competition, which opened on Aug. 1, 2016. The winner will receive $10,000 and their initials will be on the coins. Coin designs must be emblematic of the fight against breast cancer.
The number of coins the U.S. Mint will produce will depend on consumer demand, with some limits. Product options include up to 50,000 of the $5 coins in pink gold — a first for the U.S. Mint, as many as 400,000 silver dollars, and a maximum of 750,000 clad half-dollars. They will be released in collector qualities of proof and uncirculated.
Up to 20 artists will be selected by Nov. 14, 2016 to participate in the second phase of the competition. These semi-finalists will be asked to create and submit their designs and/or plasters for the final coin. The winning designs will be announced in June 2017. The U.S. Mint will produce and sell the coins in calendar year 2018.
According to the law authorizing the commemoratives, each coin sold will include surcharges of $35 per gold coin, $10 per silver dollar and $5 per clad half-dollar. Collected funds will be paid to the Breast Cancer Research Foundation (www.bcrfcure.org) for furthering research.
Visit the U.S. Mint online page devoted to the competition for more information or to enter.