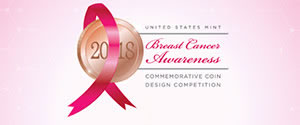 The United States Mint is now accepting applications from artists to design 2018 Breast Cancer Awareness Commemorative Coins.
U.S citizens and permanent residents who have experience or interest in visual arts, illustration or sculpting and who are at least 18 years of age are encouraged to enter the competition between August 1 to October 17, 2016. The winner will receive $10,000 and his or her initials will be placed on the coins.
Coins will include up to 50,000 $5 pink gold coins, 400,000 silver dollars and 750,000 clad half-dollars and will be issued in collector qualities of proof and uncirculated.
Congress authorized the design competition with the passing of the Breast Cancer Awareness Commemorative Coin Act (Public Law 114-148). Winning designs will be selected by a jury, which is chaired by the Secretary of the Treasury and consist of three members from the Citizens Coinage Advisory Committee and three members from the Commission of Fine Arts.
Key dates for the competition include:
August 1, 2016: United States Mint Launches Public Design Competition for Breast Cancer Awareness Commemorative Coin

October 17, 2016: Close of public competition (Phase One)

November 14, 2016: Update on artists invited to participate in Phase Two

January 31, 2017: Deadline for Phase Two artists to submit designs and/or plaster models

June 2017: Announcement and unveiling of winning design
For more information or to enter, visit the U.S. Mint online page devoted to the competition.