An elk proudly standing within its natural habitat is depicted on the Royal Canadian Mint's latest release from its series of $100 for $100 silver coins.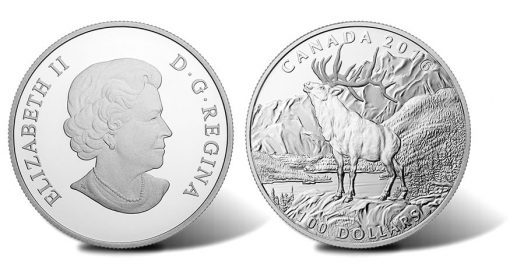 Like past issues, each is sold at its legal tender face value of CAD $100, or about US $76. Each is composed of 99.99% pure silver and weighs 31.83 grams.
"Own this stunning coin in the groundbreaking $100 for $100 series," touts the Royal Canadian Mint. "Bold design. Expert craftsmanship. Highest-quality silver from the Mint."
Eight other $100 for $100 coins preceded this release. They include:
2013 $100 Bison silver coin, debuting in May 2013
2014 $100 Grizzly silver coin, released in September 2013
2014 $100 Bald Eagle silver coin, debuted in January 2014
2014 $100 Bighorn Sheep silver coin, issued in June 2014
2015 $100 Horse silver coin, first appearing in February 2015
2015 $100 Muskox silver coin, launched in July 2015
2016 $100 Cougar silver coin, appearing in September 2015
2016 $100 Orca silver coin, released in April 2016
These program coins had mintages ranging from 45,000 to 50,000. The Elk silver coin marks the lowest level in the series to date with a mintage of 30,000.
Designs and Coin Specifications
Designed by artist Glen Loates, the reverse or tails side design features a majestic elk on a plateau in a Canadian landscape complete with a mountainous backdrop and flowing water.
Inscribed above the scene are CANADA and 2016. The coin's face value 100 DOLLARS appears below. The letters GL are seen to the left, for the artist's initials.
Obverses offer Susanna Blunt's portrait of Queen Elizabeth II along with inscriptions of ELIZABETH II and D G REGINA.
Specifications for the silver coin include:
Mintage: 30,000
Composition: 99.99% pure silver
Finish: matte proof
Weight (g): 31.83
Diameter (mm): 40
Edge: serrated
Certificate: not serialized
Face value: 100 dollars
Reverse Artist: Glen Loates
Obverse Artist: Susanna Blunt
Ordering
2016 $100 Elk Silver Coins are available from the Royal Canadian Mint at mint.ca. An affiliate link to the Mint's $100 for $100 coins is right here. These coins are GST/HST/PST exempt, and ship free. No more than three may be ordered per household.
An illustrated display box accompanies each purchase.