Offered at its legal tender face value, the Royal Canadian Mint has just unveiled its new 2016 $50 Hare Silver Coin.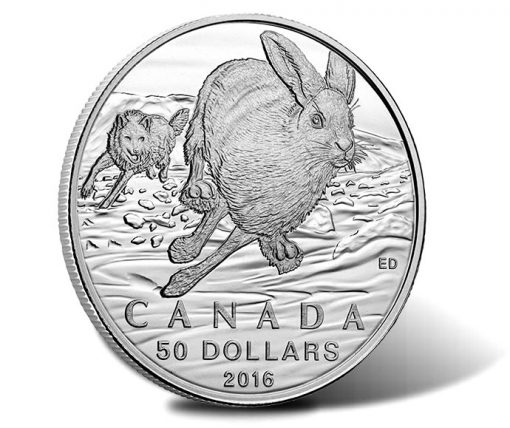 Composed from 99.99% pure silver and depicting a hare trying to escape from a wolf, this coin appears as the fourth release in the Mint's $50 for $50 program. It follows last year's 2015 $50 Beaver Silver Coin and, like it, the Mint does not charge taxes and it ships them free in Canada and the United States. In U.S. dollars, the coin's price is about $36.
Hare Silver Coin Designs and Specifications
Royal Canadian Mint artist Emily Damstra created the design found on the reverse (tails side). It depicts a single hare racing to escape from a wolf that is closing in from behind. Inscriptions include CANADA, 50 DOLLARS, 2016 and the artist's initials of ED.
Susanna Blunt's portrait of Queen Elizabeth II appears on the obverse (heads side). ELIZABETH II and D G REGINA surround the effigy.
Royal Canadian Mint-provided coins specifications are as follows:
Royal Canadian Mint Product No.: 142193
Mintage: 90,000
Composition: fine silver (99.99% pure)
Finish: matte proof
Weight (g): 15.87
Diameter (mm): 34
Edge: serrated
Certificate: not serialized
Face value: 50 dollars
Reverse Artist: Emily Damstra
Obverse Artist: Susanna Blunt
Ordering
2016 $50 Hare Silver Coins may be ordered directly from the Royal Canadian Mint website at mint.ca. The following affiliate link goes to the RCM's $50 for $50 page
.
A household limit of three coins applies.