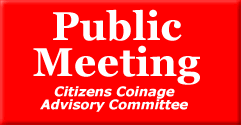 The Citizens Coinage Advisory Committee (CCAC) will hold a three-hour meeting on Friday, Sept. 16, to review candidate designs for proof Platinum Eagles and to choose members to jury the Breast Cancer coin design competition.
The CCAC is tasked with advising the Secretary of the Treasury on themes and designs pertaining to all United States coins and medals.
Candidate designs ready for review include those for the 2018-, 2019-, and 2020-W Proof American Platinum Eagles. The three-year run of collector coins will feature themed designs of "Life, Liberty and the Pursuit of Happiness."
The U.S. Mint is accepting applications from artists for a competition to design the 2018 Breast Cancer Awareness Commemorative Coins. Artists' portfolios and entrant designs will be evaluated by three members from the CCAC and three members from the Commission of Fine Arts (CFA). On the 16th, the CCAC is expected to select which three of its members will jury for the competition.
In addition, members of the committee will spend time discussing the 2015 and 2016 Annual Reports.
Interested members of the public may attend the meeting at:
United States Mint Headquarters
Conference Room A
Eighth Floor Boardroom
801 Ninth St. NW
Washington, D.C. 20220
The meeting begins at 10:00 a.m. (ET) and is scheduled to last until 12:45 p.m.