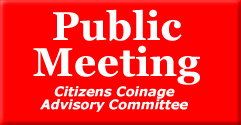 The Citizens Coinage Advisory Committee (CCAC) will next meet at the upcoming American Numismatic Association World's Fair of Money convention in Baltimore.
In addition to reviewing reverse designs for the 2009 American Eagle Platinum Proof Coin, the CCAC has invited the public to share their views, opinions and suggestions in an open forum.
"Every year the members of the CCAC look forward to meeting at the ANA convention, because it's a great opportunity to interact with the numismatic community," noted CCAC Chairman Mitch Sanders.

"We hope that any interested numismatists will come to our meeting and forum to see the coin design process in action, and especially to let us know their opinions about American coin design."
The CCAC is tasked to review and advise the Treasury Secretary on themes and design proposals for circulating coinage, commemorative coins, bullion coinage, Congressional Gold Medals and other medals
Time and location of CCAC meeting
The Citizens Coinage Advisory Committee will meet Friday, August 1 from 9:00 a.m. to 12:00 a.m. (ET). The location of the public meeting is at:
American Numismatic Association's World's Fair of Money
Baltimore Convention Center, One West Pratt Street,
Rm. 316, Baltimore, MD, 21201
The meeting is open to the public and press, as is the open forum that immediately follows.