Canada's western interior takes center stage on a new silver coin released this week by the Royal Canadian Mint. Entitled the 2016 Canada's Vast Prairies $200 for $200 Fine Silver Coin, each is sold at its legal tender face value of $200.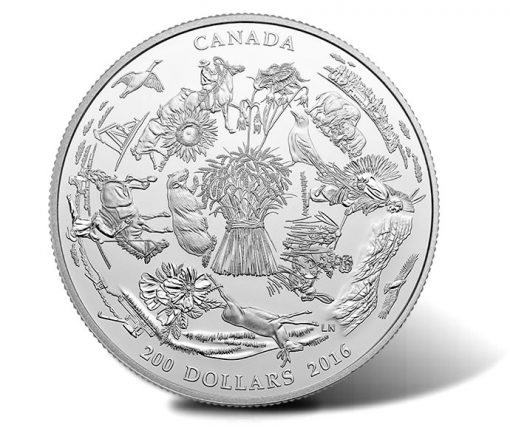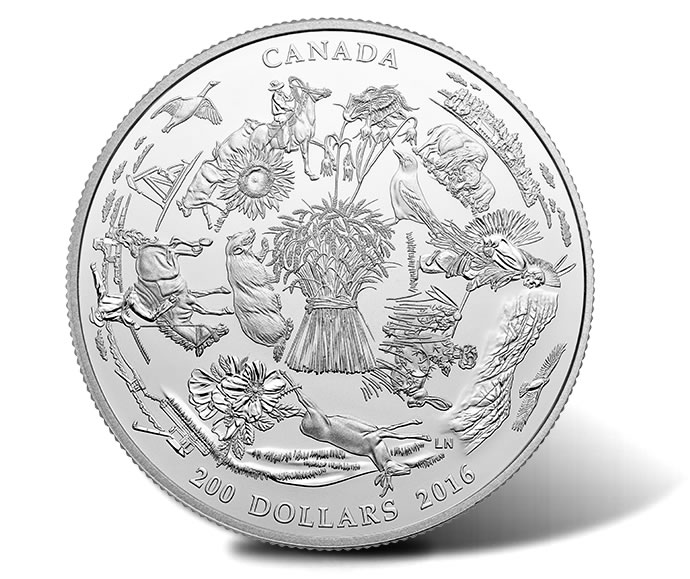 This matte proof coin weighs 62.69 grams, is composed of 99.99% pure silver, has a large 50 millimeter diameter, and is limited to a mintage of 25,000. The new 2 oz. strike appears as the fourth release in the Landscapes of the North series.
Canadian artist Luc Normandin created the unique 360-degree design found on its reverse (tails side). Scenes on the design pay homage to Canada's prairies and include flora and fauna typical of the region.
Above the design, CANADA is inscribed. Below is the legal tender face value of 200 DOLLARS and 2016 for the year of issue. Normandin's initials are also appear in the artwork.
These coins are issued by the Royal Canadian Mint as legal tender of Canada and thus bear the Susanna Blunt effigy of Queen Elizabeth on their obverse (heads side). Inscriptions around the portrait include ELIZABETH II and D G REGINA.
Ordering
The new silver coin is available directly from the Royal Canadian Mint at mint.ca. An affiliate link to the coin's product page is right here
. Currently, there is a 2-coin per household limit.
The next program coin is scheduled to be released in October 2016. The Mint has not yet revealed its design.