The splendor and diversity of the Arctic are portrayed on the Royal Canadian Mint's new 2016 $200 Canada's Icy Arctic 2 oz. Silver Coin, the second and last release this year and the fifth overall from the Landscapes of the North series of coins that sell at their legal tender face values.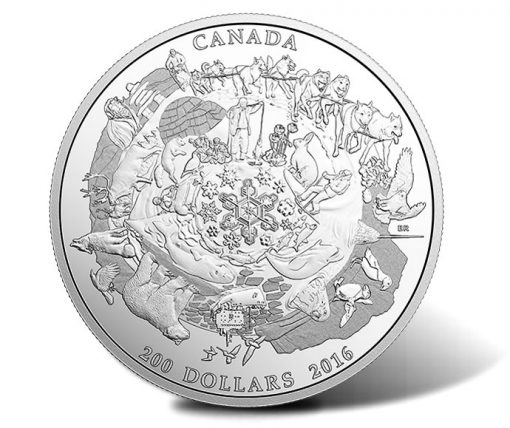 This matte proof collector piece is composed of 99.99% pure silver and is limited to 20,000, matching the lowest mintage in the series to date.
Canadian artist Bonnie Ross created the coin's reverse or tails side design. The 360-degree image pays homage to Canada's Arctic with scenes that include a sleigh and team of dogs, a polar bear, an igloo, a fox, a snowy owl, a hare, a walrus, whale, birds and fish.
CANADA is inscribed above the artwork. Below is the legal tender face value of 200 DOLLARS and 2016 for the year of issue. Ross's initials also appear at the 3 o'clock position.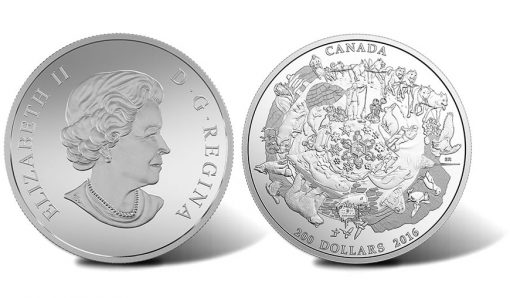 Obverses offer Susanna Blunt's portrait of Queen Elizabeth II along with inscriptions of ELIZABETH II and D G REGINA.
Specifications for the coin as provided by the Royal Canadian Mint are as follows:
Mintage: 20,000
Composition: 99.99% pure silver
Finish: matte proof
Weight (g): 62.69
Diameter (mm): 50
Edge: serrated
Certificate: not serialized
Face value: 200 dollars
Reverse Artist: Bonnie Ross
Obverse Artist: Susanna Blunt
Previous coins from the Mint's Landscapes of the North series celebrate Canada's towering forests, rugged mountains, coastal waters, and vast prairies. The series launched in 2014 and has per coin mintages ranging from 20,000 for the very first and this newest release to 25,000 for each of the three issues in between. Only the two 2016-dated coins are now available.
Ordering
The new coin is available from the Royal Canadian Mint at mint.ca. An affiliate link to the Mint's $200 for $200 silver coins is right here.
Each are GST/HST/PST exempt, and ship free. No more than two may be ordered per household. An illustrated display box accompanies each purchase.