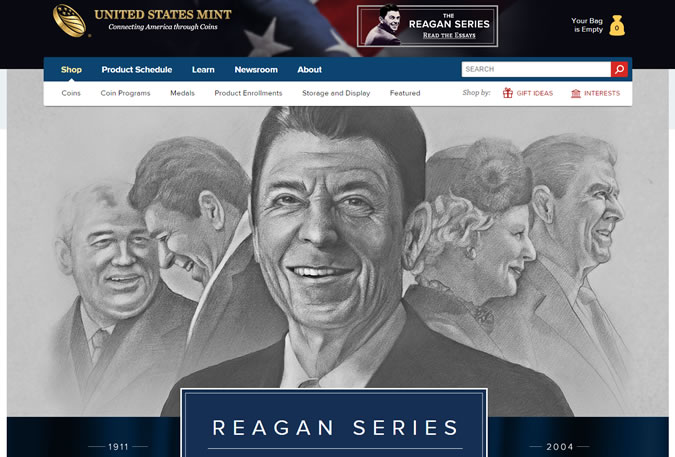 The U.S. Mint this week published the last essay in a four-part series that chronicles the life and legacy of Ronald Reagan, the 40th President of the United States.
Part IV explores Reagan's presidency and his later life, covering his victory in the 1980 Presidential election to his passing in 2004. The earlier essays recount his:
EARLY FAMILY LIFE,
FILM & TELEVISION CAREER, and
CALIFORNIA POLITICS & PRESIDENCY RACE.
The series compliments collector coins from the United States Mint that commemorate Ronald and Nancy Reagan. The U.S. Mint released clad dollars featuring Mr. Reagan and gold coins honoring Mrs. Reagan soon after the series was introduced. There are also a number of sets available now that include coins or medals of the former president and first lady, and upcoming products like the:
2016 Presidential $1 Three-Coin Set (release on Aug. 9).
2016 First Spouse Bronze Three-Medal Set (release on Aug. 31), and
2016 Ronald Regan Coin & Chronicles Set (release to be determined).
Look for these products and those already released on the U.S. Mint's website at catalog.usmint.gov/the-reagan-collection.