The U.S. Mint has unveiled Part I of a four-part online series chronicling the life, legacy and influence of Ronald Reagan, the 40th President of the United States.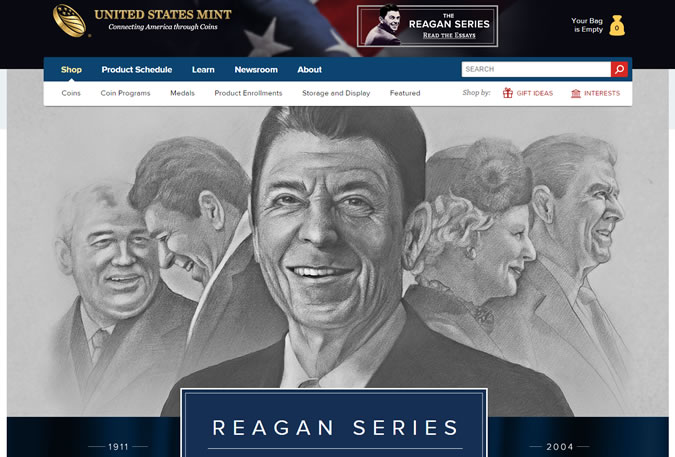 Part I explores Reagan's early family life, recounting his childhood in northern Illinois, his school years, and his early jobs during the Great Depression.
Forthcoming series will discuss Reagan's:
FILM & TELEVISION CAREER,
CALIFORNIA POLITICS & PRESIDENCY RACE, and
PRESIDENCY & LATER LIFE.
In 2014, the U.S. Mint ran a similar series chronicling the life of John F. Kennedy and the half-dollar coin that honors him. That year, the U.S. Mint issued special 50th anniversary coin products to include a dual-dated proof 50c gold piece and unique silver half-dollars.
This year, on July 1, the U.S. Mint will begin to sell collector coins featuring Ronald and Nancy Reagan. Product options include 2016 Ronald Reagan Presidential $1 Coins in circulating quality and 2016 $10 Nancy Reagan First Spouse Gold Coins in qualities of proof and uncirculated. They are the last issues from the 10-year series of Presidential $1 Coins and First Spouse Gold Coins.
Later in the year, the U.S. Mint will introduce the highly anticipated 2016 Ronald Reagan Coin & Chronicles Set. The Mint already released several 2016-dated products that include Reagan dollars, like those in the annual mint, proof and silver sets. Look for those at catalog.usmint.gov.