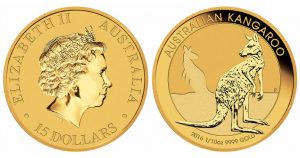 Sales of Australian gold bullion slumped to at least a 3-year low in May, while silver bullion missed the million ounce mark for the first time in 9 months, according to Perth Mint of Australia data released on Thursday, June 2.
Perth Mint bullion sales registered against a backdrop of falling precious metals with London fixings in May posting sharp losses of 5.7% for gold and 10% for silver.
Bullion Sales in May 2016
The Perth Mint in May sold 21,035 ounces in gold coins and gold bars, the lowest monthly amount since CoinNews started tracking the Mint's data in February 2013. The level marks a 55.8% drop from April and a 2.9% decline from the same month last year.
Year to date gold sales total 201,347 ounces for an advance of 46.3% from the 137,631 ounces sold during in the first five months of 2015.
Perth Mint sales of silver bullion increased in May by 974,865 ounces, down 16.1% from previous month but 188.8% higher than a year earlier.
In the January to May period, the Mint's silver sales at 6,415,339 ounces are 164.4% higher than last year's starting five-month total of 2,426,408 ounces.
Perth Mint Gold and Silver Sales by Month
Below is a monthly breakdown of Perth Mint bullion sales from May 2015 to May 2016.
Perth Mint Bullion Sales (in troy ounces)
May 2016
974,865
21,035
April 2016
1,161,766
47,542
March 2016
1,756,238
47,948
February 2016
1,049,062
37,063
January 2016
1,473,408
47,759
December 2015
1,083,460
40,096
November 2015
1,145,239
31,664
October 2015
1,751,898
66,951
September 2015
3,349,557
63,791
August 2015
707,656
33,390
July 2015
746,700
51,088
June 2015
384,586
31,019
May 2015
337,511
21,671