With its newest silver coin, the Royal Canadian Mint is joining millions of fans in celebrating the 40th season of the Toronto Blue Jays. The 99.99% pure silver collectible was unveiled Friday before fans gathered at Rogers Centre for a home game.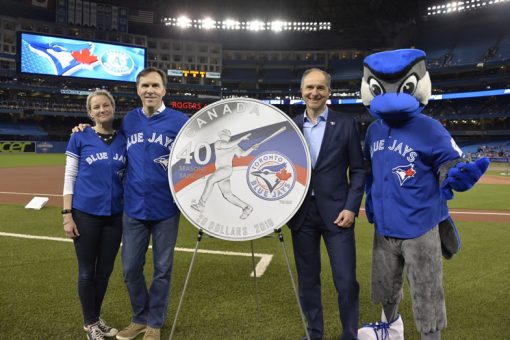 Designed by Canadian artist Joel Kimmel, the proof coin features a red and white wave inspired by the team's colors. It flows behind the silhouette of a player with the tell-tale stance of a homerun hitter. A large engraved "40" commemorates four decades of play since Toronto was granted its MLB franchise in 1976. The figure of the player is also flanked by the team's official logo.
"The Mint is proud to celebrate Canadian sports history through beautifully crafted coins which capture the spirit of cheering on our favorite teams and athletes," Sandra Hanington, President and CEO of the Royal Canadian Mint, said in a statement. "This new coin, proudly produced by our employees, is for all Canadians who love baseball and love the Blue Jays."
To recognize and support the Toronto Blue Jays in their charitable efforts to produce lasting social change for children and youth, the Royal Canadian Mint also donated $25,000 to Jays Care Foundation.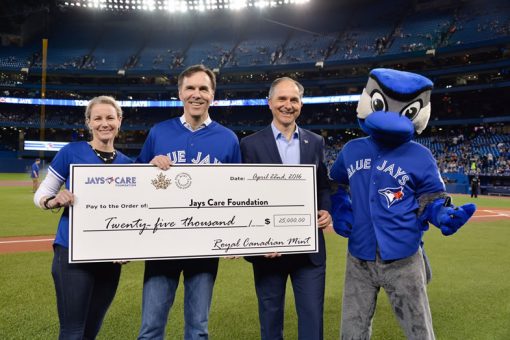 In addition to the coin's reverse design, there are inscriptions of CANADA, 20 DOLLARS, 2016, and the artist's initials, JK.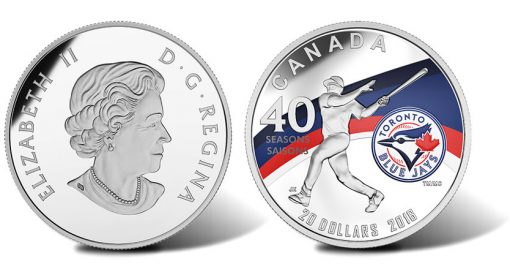 The coin's obverse or heads side offers a portrait of the Queen, by Susanna Blunt, with surrounding inscriptions ELIZABETH II and D G REGINA.
Specifications for the collector coin include:
Mintage: 40,000
Composition: 99.99% pure silver
Finish: proof
Weight (g): 31.39
Diameter (mm): 27
Edge: serrated
Certificate: serialized
Face value: 20 dollars
Reverse Artist: Joel Kimmel
Obverse Artist: Susanna Blunt
Ordering
Order the collector coin from the Royal Canadian Mint's website at www.mint.ca. An affiliate link to the coin's product page is right here
. Pricing is CAD $99.95, which is about US $79.
The coin arrives encapsulated and presented within a clamshell-style case with a full color beauty box.