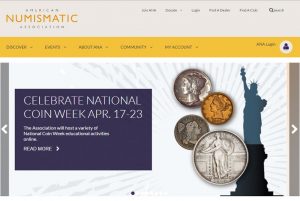 2016 National Coin Week begins on Sunday, April 17, and the American Numismatic Association (ANA) and the United States Mint have announced a number of online lesson plans and activities to support the 93rd annual celebration of coins and coin collecting.
2016 marks the 100th anniversary of three popular coin designs featuring Liberty, including the Winged Liberty or Mercury dime, the Standing Liberty quarter and the Walking Liberty half-dollar. The ANA as a part of the centennial commemoration selected "Portraits of Liberty: Icon of Freedom" as the theme for this year's National Coin Week.
ANA Events
ANA sponsored activities for upcoming week include:
An online video quiz. Every day from April 18th to the 22nd, a video clue will be released here an on the ANA's YouTube page.
The annual coin club trivia challenge, where ANA member clubs test their numismatic knowledge and compete for prizes.
Online resources, including articles from The Numismatist, promotional documents, a youth activity, links and suggestions from the ANA library and more.
An open house at the Money Museum in Colorado Springs on April 23, which will include free admission, activities for children and adults, and the minting of the 2016 National Coin Week medallette in the museum's Mini-Mint.
For more information, visit the ANA here.
US Mint Events
The United States Mint announced free, downloadable content that is available to educators and youth organizations interested in learning about U.S. coins. Free lesson plans are offered for grades K-12 and cover subjects such as social studies, art, science, math, and language arts. The materials also focus on ways to begin a coin collection and include an instructional video about the coin-making process.
U.S. Mint free lessons and activities for the week include:
Day 1, Sunday: Give Me Liberty
Just before 1909, there was an image of Lady Liberty on almost every circulating American coin. But over the following 38 years, she was gradually replaced on all of them, mostly by former presidents. Although Lady Liberty doesn't circulate anymore, she still appears on some special coins.
Lesson Plan: Give Me Liberty
Grades 11 and 12, Social Studies
Activity: Learn how Lady Liberty found her way into the Presidential $1 Coin Program with the Jefferson, Jackson, and Van Buren First Spouse Gold coins.
Day 2, Monday: Change Mixer
Mix it up! Learn coin values, work on basic arithmetic skills and get some exercise at the same time. This lesson allows students to combine different coins to create specified values.
Lesson Plan: Change Mixer
Grades K through 5, Math
Activity: Ever wonder how U.S. coins are made? Check out "How Coins Are Made… for Kids!" and learn how…
Day 3, Tuesday: Coin Collector's Workshop
Have you ever thought about starting a coin collection? Or perhaps you are just curious about it. Learn how to begin a collection and care for it using our Coin Collector's Workshop. You can also use the lessons in Inspector Collector's Coin Course to help you learn even more!
Activity: Think you know all U.S. coin denominations? Prove it by playing "Dollar Dive" and collect coins of different value to outrun Sea Monster!
Day 4, Wednesday: Nickel, Quarter and Dime
U.S. coins can be used to teach all sorts of lessons. Students will play a game to help them develop an appreciation for statistical methods as a powerful means for decision making.
Lesson Plan: Nickel, Quarter and Dime
Grades 6, 7 and 8, Math
Activity: Test your memory and visual identity skills with our Coin Memory Game.
Day 5, Thursday: Ancient Story Problems
Think about all of the stories you have read or been told about. In this lesson, students will research ancient civilizations and develop story problems using symbols and coins of both yesterday and today.
Lesson Plan: Ancient Story Problems
Grades 3 through 8, Math/Social Studies/Technology
Activity: Check out ways to share your new hobby of coin collecting with others.
Day 6, Friday: You Can Bank on It
Did you know that bigger banks make rules for the smaller banks? In today's lesson, students will learn about the Federal Reserve System and its role in the monetary supply system.
Lesson Plan: You Can Bank on It
Grades 9 through 12, Economics
Activity: Take a look inside the U.S. Mint and learn a little more about the facilities that make coins.
Day 7, Saturday: A Special Place
Explore how personal experiences can lead to conservation efforts. Students will demonstrate their understanding by creating a digital presentation proposing the conservation of a special place.
Lesson Plan: A Special Place
Grades 9 through 12, Art/Language Arts/Social Studies
Activity: Design your own coin
For more information, visit the U.S. Mint here.