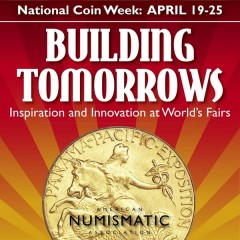 "Building Tomorrows: Inspiration and Innovation at World's Fairs" is the theme for next year's annual National Coin Week, the American Numismatic Association (ANA) has announced.
Every third week of April, the ANA and its members celebrate National Coin Week with special numismatic exhibits, events, fun educational activities and other programs honoring a historic event or person and its impact on coins and paper money.
Next year's National Coin Week, which takes place April 19 to April 25, recalls the history of world's fairs.
They have "long celebrated mankind's achievements in science, architecture and social progress," describes the ANA.
Activities and resources scheduled for the 2015 National Coin Week include:
A video activity via the ANA's YouTube page and website for a variety of prizes.
A club trivia activity for a variety of prizes.
A promotional kit for clubs with educational materials, buttons, bookmarks and more.
An open house at the Edward C. Rochette Money Museum, scheduled for April 25, featuring 2015 National Coin Week medalettes produced in the museum's Mini Mint.
The "World's Fair" theme coincides with the 100th anniversary of the 1915 Panama-Pacific International Exposition in San Francisco. The idea was submitted in a theme contest by Esther Leising. Leising will receive a 2014-P Proof Civil Rights Act of 1964 Silver Dollar for her winning entry.
The first National Coin Week kicked off in 1924. For more information about the 2015 National Coin Week, visit the ANA website.