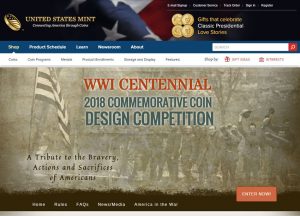 Artists have just two more weeks to submit their digital portfolios to the United States Mint as a part of the public competition to design the commemorative 2018 World War I American Veterans Centennial Silver Dollar.
Phase One of the design competition ends on Thursday, April 28, with up to 20 applicants selected for advancement to Phase Two.
Phase Two participants will receive a stipend of $1,000 to create a design and plaster for the silver dollar that is emblematic of the centennial of America's involvement in World War I.
"What makes this story more unique is that a public competition was also used to design the future National WWI Memorial in D.C. Surcharges from the sale of this coin will benefit the construction of the Memorial, so in all — both the coin and the memorial will have been created by and for the American people," said Heather Sabharwal of the United States Mint.
The World War I American Veterans Centennial Commemorative Coin Act, Public Law 113-212, authorizes the silver dollar and the public design competition. According to the terms of the Act, the competition will be judged by an expert jury consisting of 3 members from the Citizens Coinage Advisory Committee, 3 members from the Commission of Fine Art and chaired by the Secretary of the Treasury.
The winner of the competition will be announced in January 2017, receive an additional $10,000 for their work, and their initials will appear on the coin.
For additional details on the design competition, please visit the U.S. Mint's online section that is dedicated to the WWI Centennial Design Competition.