Today, April 8, the U.S. Mint started selling the second to last Presidential $1 Coin & First Spouse Medal Set. This newest product for collectors memorializes Gerald R. Ford, the 38th President of the United States, and First Lady Betty Ford.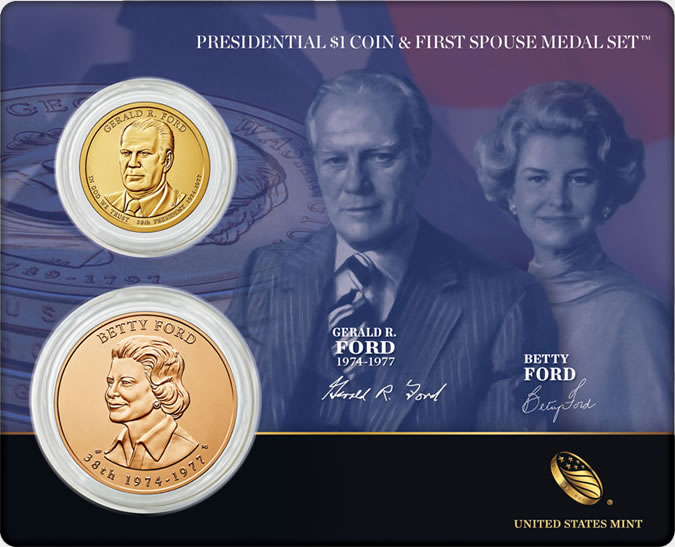 Sets include a 2016 Ford Presidential dollar in uncirculated quality and a bronze medal featuring Mrs. Ford. Both are presented in a protective plastic card that offers portraits of the two, their signatures, historical information, and a certificate of authenticity.
Circulating quality Ford dollar coins launched in U.S. Mint-branded rolls, bags and boxes on March 8, 2016. Six product options remain available, and their prices range from $32.95 to $275.95. Collectors have ordered nearly 3.3 million of them since their release.
The bronze medal bears a likeness of the Betty Ford First Spouse Gold Coins that went on sale exactly two weeks ago. Available in collector qualities of proof and uncirculated, each $10 coin is produced at the U.S. Mint facility in West Point from 1/2-ounce of .9999 fine gold. The U.S. Mint is currently selling the proof for $815 and the uncirculated coins for $795. Their sales through Sunday, April 3, reached 1,305 for the proof and 825 for the uncirculated — for a combined 2,130 coins.
Ordering
Priced at $9.95, order the $1 coin and medal set from the United States Mint website, right here, or call 1-800-USA-MINT (872-6468). There are no product or household ordering limits.
The very last Presidential $1 Coin & First Spouse Medal Set includes collectibles featuring Ronald and Nancy Reagan. This set is scheduled to launch sometime in August. In addition, there are many older sets still available. They have sales ranging from 3,960 to 10,995.