Today, July 5, the U.S. Mint introduced its last Presidential $1 Coin & First Spouse Medal Set. This newest product honors Ronald Reagan, the 40th President of the United States, and former First Lady Nancy Reagan.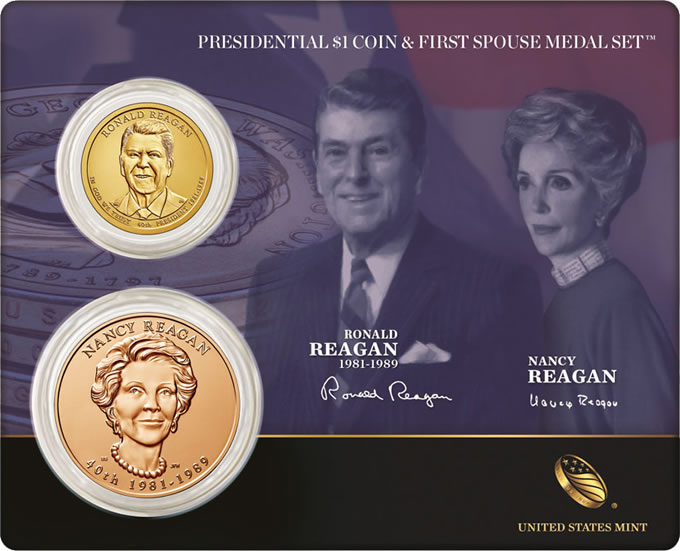 Sets include a Ronald Reagan dollar and a bronze medal featuring Mrs. Reagan. Both are presented in a protective plastic card that offers portraits of the two, their facsimile signatures, historical information, and a certificate of authenticity.
The dollar is in uncirculated quality. Uncirculated coins are struck on special presses using greater force than circulating coins, producing a sharper and more detailed image. On Friday, the U.S. Mint released circulating quality Reagan dollars in rolls, bags and boxes at prices ranging from $32.95 to $275.95.
The bronze medal bears a likeness of the Nancy Reagan First Spouse Gold Coins that also went on sale Friday. Available in collector qualities of proof and uncirculated, each $10 gold piece is produced at the U.S. Mint facility in West Point from 1/2-ounce of .9999 fine gold. The U.S. Mint is now selling the proof for $865 and the uncirculated coin for $845.
Ordering and Last Set
Priced at $9.95, order the $1 coin and medal set from the United States Mint website, right here, or call 1-800-USA-MINT (872-6468). There is no product or household ordering limits.
This set ends the series. Earlier this year, the Mint released sets honoring the Fords and Nixons. These and many sets from past years are still available. They have sales ranging from 3,979 to 11,044.