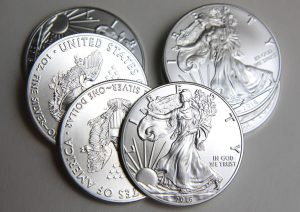 Sales of 2016 American Eagle silver bullion coins topped the 9.6 million mark, figures from the United States Mint show.
The U.S. Mint is rationing sales of the 1-ounce, .999 fine silver coins because of silver planchet shortages. Earlier Monday, the agency announced a limit of 1,073,500 coins for this week.
Normally, the weekly allocations are taken fairly quickly. That wasn't the case last week when some coins remained on the table. Mint distributors ordered 926,500, or 92.7%, of the allotted 1 million. The unsold Silver Eagles were added to this week's supply.
Sales so far this year at 9,687,500 coins are on track for an annual record, up 24.6% through the same time in 2015. Last year when sales ended at a record totaling 47 million, the coins through Feb. 22, 2015 posted sales of 7,774,500.
The U.S. Mint doesn't directly sell bullion American Silver Eagles to the public. They are sold through a network of "Authorized Purchasers." AP's buy them in bulk at melt value, plus a $2 premium per coin. AP's consist of major coin and precious metals dealers, brokerage companies, and other participating financial intermediaries. Today, consumers are paying about $4 to $5.50 per coin over spot with discounts offered at larger quantities.