In roughly three days, sales of the new proof and uncirculated 2016-P Mark Twain Commemorative Silver Dollars totaled 43,600 coins, or 12.5% of their maximum 350,000.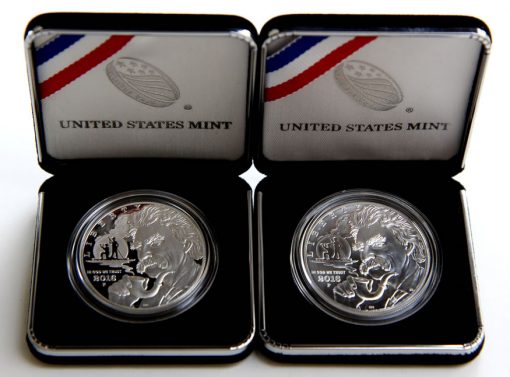 The proof with its unique degrees of frosting is outselling the other silver dollar with its standard uncirculated finish by 2.6-to-1, having sales splits of 31,500 and 12,100. Released on Monday, the two commemorative coins are available at introductory prices of $45.95 and $44.95.
Mark Twain Gold Coins have been available since mid-January. (See photos of the two gold coins and the proof's three levels of frosting.) Costlier at $376.15 for the proof and $371.15 for the uncirculated, their resultantly moving slower with respective weekly gains of 521 and 241 for new sales splits of 7,953 and 3,759 — a ratio of 2.1-to-1. Their combined sales of 11,712 coins represent 11.7% of their maximum 100,000.
A week ago Wednesday, Jan. 27, prices of each gold coin went up $12.15 in response to a rising gold market. Their prices will climb by the same amount next Wednesday, Feb. 10, if gold continues to stay above $1,150 an ounce.
Order Mark Twain coins from the U.S. Mint's online section of commemoratives or call 1-800-USA-MINT (872-6468).