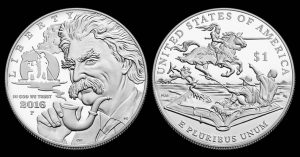 Silver dollars commemorating the life and legacy of Mark Twain will go on sale Monday, Feb. 1, the United States Mint announced earlier today.
Two collector editions will be available and at introductory prices, the proof silver dollar for $45.95 and the uncirculated silver dollar for $44.95. They will climb by $5 each when regular prices kick in one month later, on Mar. 2 at 3:00 PM (ET).
The silver commemoratives had originally been scheduled to launch alongside $5 gold versions but they were delayed due to a printing error in packaging that described their designs. The gold coins went on sale Jan. 14 with the proof for $364 and the uncirculated for $359. The recent rally in gold will drive their prices up later today to $376.15 for the proof and $371.15 for the uncirculated. A combined 10,950 have sold through Sunday, with sales splits of 7,432 for the proof and 3,518 for the uncirculated.
Mark Twain Commemorative Coins feature portraits of the author and scenes from his books. Twain was the pen name of Samuel Langhorne Clemens and wrote such classics as The Adventures of Tom Sawyer and its sequel The Adventures of Huckleberry Finn. Nearly every book Clemens wrote is still in print, with more than 6,500 editions translated into 75 languages.
Above prices include surcharge amounts of $35 for each gold coin and $10 per silver dollar, as mandated by the law authorizing all four coins. The collected funds will benefit museums and educational programs dedicated to Mark Twain.