This article presents photos of 2016-W $5 Mark Twain Gold Coins, the first issues commemorating the popular author and humorist Samuel Clemens whose pen name was Mark Twain. It also provides illustrations of unique laser frosting treatments that enhance their designs.
Released two weeks ago, Mark Twain Gold Coins are produced and sold by the United States Mint in collector qualities of proof and uncirculated. Proof pieces tend to outsell their uncirculated counterparts by about 2-to-1, but the proof Mark Twain coin may enjoy higher than typical sales because of its unique reverse.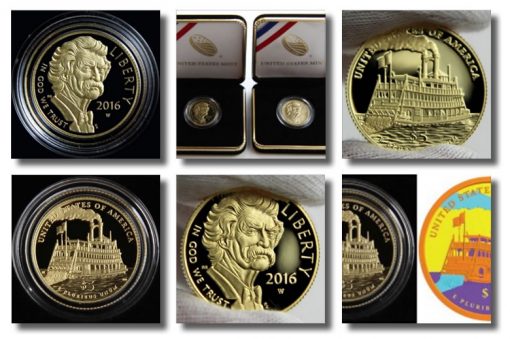 Regular proof coins have frosted designs that contrast attractively against mirror-like backgrounds, just like the obverse or heads side of the proof Mark Twain gold coin. The reverse or tails side of this same coin, however, features two additional frosting intensities for a combination of four interacting effects.
To start, take a look below at a photo of an obverse. It's alongside a U.S. Mint-provided graphic illustrating its design treatments. They show the regular mirror-like polished field and standard frosting application on the raised elements. These are depicted by the graphic in colors of yellow and orange.
Now, here's a photo of a reverse with another color-coded graphic that illustrates its polishing and multiple degrees of frosting:
Like the obverse, it features a traditional mirror-like polish for the flat surface. Parts of the design and letterings also carry standard frosting. Here's where it gets interesting visually… other areas of the coin feature additional frosting layers of "light-plus" and "heavy." Altogether, the reverse has standard proof polishing for the mirrored fields and three different intensities of frosting — light-plus, standard and heavy. The graphic shows the four treatments in colors of yellow, purple, orange and blue.
Also worth looking at are how the wavy waters remain prominent in the lower third of the design despite having to compete with inscriptions of '$5' and 'E PLURIBUS UNUM'. The Mint's development team smartly executed these inscriptions in a polish finish like the surface of the coin, making them more subdued against the light-plus frosting of the water.
Both automated and manual techniques can create a mirror-like proof polish. The frosting applications are all automated, created by a software-controlled machine that passes over a coin die and hits the designs with varying degrees of laser intensities.
Before getting to individual photos of proof and uncirculated 2016 Mark Twain Gold Coins, here are two photos that show them side-by-side: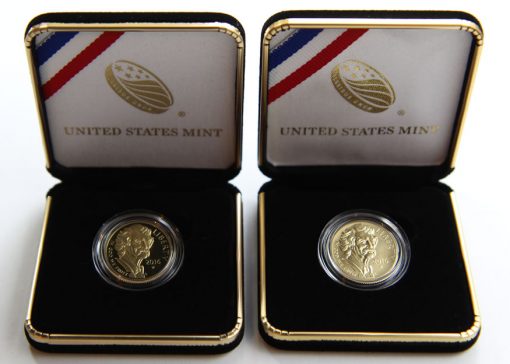 Here are larger photos of an obverse side of a proof $5 Mark Twain gold coin, the first within its capsule and the others with the coin held in hand.
And now the same for the reverse side of a $5 proof:
Here are photos of an obverse side of an uncirculated $5 Mark Twain gold coin:
Lastly, here are photos of a reverse side of an uncirculated $5 gold coin:
On Monday, Feb. 1, the U.S. Mint will begin selling Mark Twain Silver Dollars. The proof silver dollar also features multiple degrees of laser frosting.
The Mint's product page for commemorative coins is right here.