The Royal Canadian Mint this week unveiled its 2016 Silver Proof Set and the year's unique silver dollar which commemorates the 150th anniversary of the Transatlantic Cable.
Limited to 20,000, this annually issued set has a total of seven coins. All are in 99.99% fine silver. The included 2016 Transatlantic Cable Silver Dollar is gold plated, and exclusive to the set. A standard silver dollar version without the plating is available separately.
"The gold plated 99.99% pure silver proof dollar only available in this set showcases the glistening waters of Trinity Bay and a unique filigree area at top, adding a striking contrast to the engraved silver reverse," promotes the Royal Canadian Mint's website on the set's product page.
The completion of the transatlantic cable occurred in 1866 as the S.S. Great Eastern arrived in Newfoundland's Trinity Bay at Heart's Content, linking North America to the European continent via Valentia Island, Ireland. It is that historic moment which is featured on the proof silver dollar.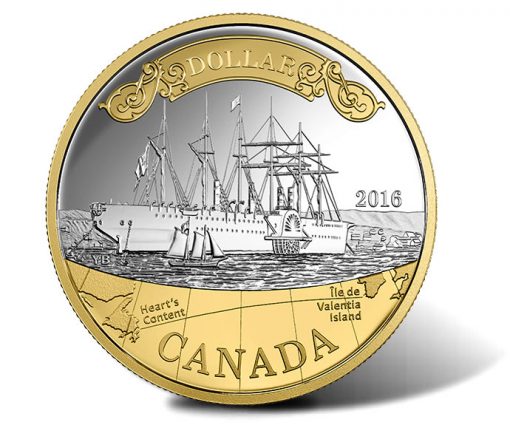 Canadian marine artist Yves Bérubé created the representation of the S.S. Great Eastern that is shown on the silver dollar's reverse. The ship appears in the waters of Trinity Bay. A map of the route of the transatlantic cable is shown below it.
The set's silver loonie and silver toonie also feature gold plating. Completing the collection are the 50-cent, 25-cent, 10-cent and 5-cent silver coins. The complete collection has a total silver weight of 63.17 grams, or slightly more than 2 troy ounces of silver.
Ordering and Packaging
The Canadian 2016 Silver Proof Set may be ordered directly from the Royal Canadian Mint's website of www.mint.ca or by visiting this affiliate link
. Pricing is $229.95.
Each coin is attached to a leather book-style presentation case and is accompanied by numbered certificate with detailed coin specifications.