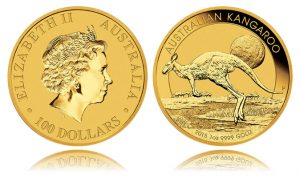 Australian bullion sales were mixed in December and for 2015, the latest figures from the Perth Mint show. Monthly sales of silver coins dipped but still posted a fourth straight 1+ million month to cap an exceptionally strong year. Gold sales, meanwhile, strengthened in December but slowed overall in 2015.
Perth Mint sales were registered in a backdrop of plummeting precious metals prices with gold falling 10.5% in 2015 and silver diving 11.5% last year.
Bullion Sales in December and in 2015
December sales of Perth Mint silver coins totaled 1,083,460 ounces in December, the fourth highest month since CoinNews started tracking the Mint's data in February 2013. The three higher months happened in September, October and November. Sales in December surged 126.8% from the same month in 2014.
2015 annual silver sales at 11,595,504 ounces jumped 53.2% from the 7,567,467 ounces sold in 2014.
Perth Mint sales gold coins and bars advanced 40,096 ounces, up 26.6% from November but down 0.3% from December 2014.
2015 annual gold sales reached 455,630 ounces for a 11.8% decline from 2014 when 516,709 ounces sold.
Perth Mint Gold and Silver Sales by Month
Below is a monthly breakdown of Perth Mint bullion sales from December 2014 to December 2015.
Perth Mint Bullion Sales (in troy ounces)
Silver
Gold
December 2015
1,083,460
40,096
November 2015
1,145,239
31,664
October 2015
1,751,898
66,951
September 2015
3,349,557
63,791
August 2015
707,656
33,390
July 2015
746,700
51,088
June 2015
384,586
31,019
May 2015
337,511
21,671
April 2015
472,273
26,545
March 2015
638,557
34,260
February 2015
392,114
31,981
January 2015
585,953
23,174
December 2014
477,731
40,211