Coin rarities are abound in the upcoming Heritage Auctions' Platinum Night sale, held Jan. 7, 2016 in conjunction with the Florida United Numismatists (FUN) convention at the Tampa Convention Center.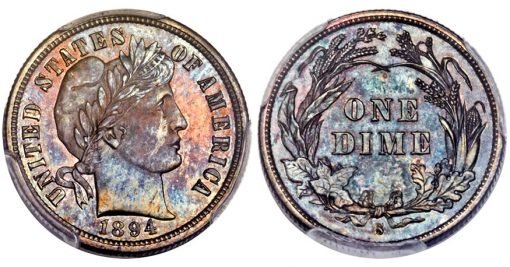 Leading the event is an 1894-S Barber Dime, graded PR66 PCGS CAC. The San Francisco Mint struck nearly 2.5 million Barber dimes in 1893 but just 24 of them in 1894. No more than nine – and possibly only eight – of those 24 are known to exist today, according to Heritage.
The Barber dime up for auction on the 7th is the finest known survivor, and has been under the hammer just three other times in its history.
"The 1894-S Barber dime is a classic in American coinage," said Greg Rohan, President of Heritage Auctions. "This legendary coin is often grouped with the 1804 dollar and the 1913 Liberty nickel as 'The Big Three' of U.S. coin rarities. It has been the stuff of collector dreams since it was first mentioned in the numismatic press by Augustus Heaton in 1900."
Other rarities of note are an 1870-S Silver Dollar, graded XF40 PCGS, the fourth finest known example of this landmark rarest regular issue silver dollar, that will be on offer, as well as a storied error issue in the form of a 1943-S 1C Struck on a Bronze Planchet AU55 PCGS Secure, the third finest graded at PCGS and the third-finest of six confirmed examples.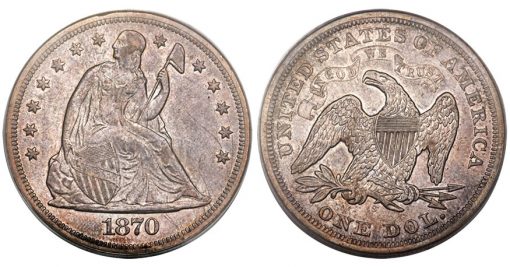 Topping the gold offerings are an 1849-C G$1 Open Wreath MS62 PCGS Secure, the finest-known specimen and one of the rarest and most valuable coins in the U.S. gold series, along with an 1804 Quarter Eagle, 13 Stars Reverse, AU55 PCGS Secure CAC, the second finest known example of the exceedingly rare BD-1 Variety.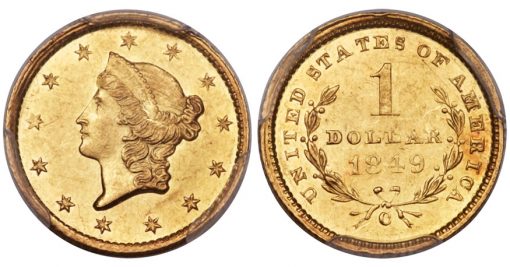 Additional highlights include, but are not limited to:
1792 Fusible Alloy Cent VF35 PCGS Secure CAC, Ex: Simpson
1861 Original CSA Cent MS64+ PCGS Secure CAC, Ex: Simpson: Probably the finest known
1943 Cent Struck on a Bronze Planchet AU58 PCGS Secure CAC, Ex: Simpson
1792 Half Disme MS62 PCGS Secure, Ex: Simpson
1792 Disme Fine 15 NGC
Heritage Auctions is the largest auction house founded in the U.S. and the world's third largest, with annual sales of about $900 million and over 950,000 online bidder members. To learn more about the company, visit HA.com.