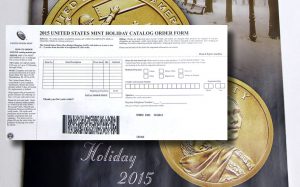 Mail ordering from the United States Mint is about to go the way of the dodo bird. A memo from the bureau this week announced ending dates for sending and acceptance of mail order forms and explained the reasoning.
According to the memo, the U.S. Mint will stop distributing the forms after Jan. 1, 2016 and it will stop all mail order sales on Sept. 30, 2016.
"The reality of the digital environment means that paper orders placed through the mail are increasingly not accepted as inventory is depleted quickly through online and telephone channels in real time," Michael White, United States Mint Office of Corporate Communications, explained in the memo. "By eliminating mail orders and encouraging all customers to shop online or by phone, the Mint will be offering more ordering consistency and eliminating those hard copy orders that take longer to receive, process and fulfill."
This means that no U.S. Mint marketing materials in 2016 will include the familiar ordering forms. Instead, they will direct customers to place orders by calling 1-800-USA-MINT (872-6468), visiting catalog.usmint.gov or shopping at U.S. Mint stores in Washington, Philadelphia or Denver.
After the Sept. 30, 2016 cut-off date, any mail orders the Mint receives will be returned with a note to order by phone or online.
Update: The U.S. Mint on Thursday, Dec. 17, issued the following revised statement:

Mail Order Forms & Mail Order Processing

This is a revised Note to Editors on mail order forms and mail order processing.

The United States Mint is currently analyzing a policy change to discontinue the distribution of mail order forms in 2016.

Although the next mailing of U.S. Mint product brochures scheduled for January will highlight the online and phone ordering process, mail orders will continue to be accepted as usual.

Updates on the policy will be announced in 2016.