All 2010 Silver Eagle Proof orders are reinstated, the U.S. Mint confirmed late Tuesday.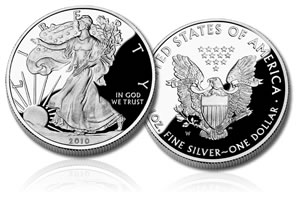 Last week, two erroneous notices were emailed to a portion of U.S. Mint customers who had subscribed to automatically receive Mount Hood National Park Quarter rolls and bags and the coveted 2010 Silver Eagle Proof.
The initial email indicated that their product had been placed on back order. The second email was more dire, alerting that their order was canceled as the product had sold out.
"Greetings from the United States Mint. Thank you for ordering from the United States Mint. We regret to inform you that the item(s) listed below are currently sold out," the cancellation email said in part.
The Mint later confirmed that approximately 100,000 orders were impacted by the snafu. On Thursday, Mint employees mobilized and notified customers with a third email revealing that the back ordered and subscription items canceled were an error. They indicated that they were working on a resolution to the issue, and sincerely apologized for the "confusion and inconvenience."
The Mint sent out a fourth email Tuesday, again apologizing and reassuring customers that their 2010 Silver Eagle Proof orders were reinstated. That body of that email follows:
Dear United States Mint Customer,

This e-mail is a follow-up to the one you received last week which erroneously indicated that the United States Mint canceled your order for certain products. Since sending that e-mail, we determined that the erroneous e-mail was not due to a computer glitch. It was our fault, we take full responsibility for it, and we apologize again for any inconvenience and confusion that it may have caused.

The United States Mint took this issue very seriously. Our employees worked diligently throughout the weekend, and we are now confident that we have corrected the error by reinstating all affected orders. Additionally, we have taken measures to ensure that this type of error does not happen again. Accordingly, you will be seeing the normal flow of communications from the United States Mint associated with the fulfillment of your order.

United States Mint
Customer Service Center
As per the Mint's previous announcement, the 2010 Silver Eagle Proof will go on sale November 19, 2010, at noon ET. The coin is listed at a price of $45.95, with a household order limit of 100 in place.