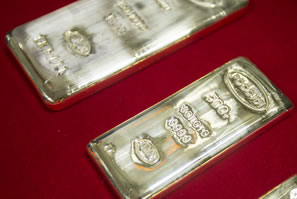 Gold futures jumped on Friday, notching their first weekly increase in seven weeks and their second straight day of gains after dropping on Wednesday to a near six-year low.
Gold for February delivery surged $22.90, or 2.2%, to settle at $1,084.10 an ounce on the Comex division of the New York Mercantile Exchange.
"We have seen the jobs number is pretty good, and that means the Fed will increase interest rates, but Yellen is going to do it with a very dovish message," Naeem Aslam, the chief market analyst at Avatrade Ltd. in Dublin, said by phone according to Bloomberg News. "From a longer-term perspective, it is showing more upside for gold and that we're close enough to a bottom for the precious metal."
Gold prices climbed 2.6% on the week, trimming their loss on the year to 8.5%. On Wednesday, gold closed at $1,053.80 an ounce to mark its lowest settlement price since Feb. 5, 2010.
In looking ahead to next week, Kitco News offers the following forecasts via their Wall Street vs. Main Street survey:
"This week, 417 people participated in Kitco's online survey. Of those respondents, 240 people, or 58%, are bullish on gold in the short-term. At the same time, 144 people, or 35%, are bearish and 33, or 8%, are neutral on gold prices.

Sentiment among market professionals is slightly higher; out of 36 market experts contacted, 19 responded, of which 11, or 58%, said they expect to see higher prices next week. At the same time, five analysts, or 26%, expect to see lower prices, and three people, or 16%, are neutral."
In other metals, silver for March delivery advanced 45 cents, or 3.2%, to settle at $14.53 an ounce. Silver prices soared 3.4% on the week, also snapping a six-week losing streak, and brought down their loss on the year to 6.9%. On Wednesday, the precious metal hit $14.01 an ounce to close at its lowest point since Aug. 20, 2009.
In PGM futures on Friday and for the week:
January platinum rose $33.10, or 3.9%, to $880.60 an ounce, rising 5.4% from a week ago.

Palladium for March delivery jumped $30.05, or 5.6%, to $566.85 an ounce, gaining 2.9% on the week.
For the year, platinum has declined 27.2% and palladium has dropped 29%.
London Precious Metals Prices
London precious metals also gained on Friday and most of them moved higher on the week. In comparing London bullion prices from Thursday PM to Friday PM:
Gold rose $23.80, or 2.3%, to $1,079.25 an ounce.
Silver added 20 cents, or 1.4%, to $14.13 an ounce.
Platinum gained $14, or 1.7%, to $859 an ounce.
Palladium rose $14, or 2.7%, to $542 an ounce.
Compared to a week ago, palladium slipped 1.6% while the other metal prices registered gains of 2.1% for gold, 0.1% for silver and 3.9% for platinum.
US Mint Bullion Coin Sales
United States Mint bullion sales increased this week by 3,000 ounces in gold coins and 1,145,500 ounces in silver coins. American Gold Buffalo coins accounted for all gold sales. The coins advanced 18,000 ounces last week.
U.S. Mint gold sales have no chance for strong advances this month with three of four American Gold Eagle products sold out and replacements not selling until Jan. 11. The least popular one-half ounce Gold Eagle is still on sale but none were claimed this week. Last week when more options were still available, Gold Eagle sales reached 16,000 ounces.
Splits this week for silver sales include 920,500 ounces in American Silver Eagles and 225,000 ounces in America the Beautiful Five Ounce Silver Bullion Coins. On Monday, the U.S. Mint released the 2016 Saratoga coin, the fifth and last of the 2015-dated five ounce issues. It sold out on Tuesday. No more five ounce coins will launch until next year. The last of this week's supply of American Silver Eagles also sold out on Tuesday, one day after they established a record that will continue to climb. More will be available on Monday, Dec. 7.
Below is a listing of U.S. Mint bullion products with the number of coins sold during varying periods. Products with an asterisk (*) are no longer available.
US Mint Bullion Sales (# of coins)
Friday Sales
Last Week
This Week
Nov Sales
Dec Sales
YTD Sales
$50 American Eagle 1 Oz Gold Coins*
N/A
16,000
N/A
80,500
N/A
626,500
$25 American Eagle 1/2 Oz Gold Coins
0
0
0
7,000
0
74,000
$10 American Eagle 1/4 Oz Gold Coins*
N/A
N/A
N/A
12,000
N/A
158,000
$5 American Eagle 1/10 Oz Gold Coins*
N/A
N/A
N/A
100,000
N/A
980,000
$50 American Buffalo 1 Oz Gold Coins*
0
18,000
3,000
38,000
0
219,000
$1 American Eagle 1 Oz Silver Coins
0
1,000,000
920,500
4,824,000
183,500
44,850,000
2015 Homestead 5 Oz Silver Coins*
N/A
35,000
2015 Kisatchie 5 Oz Silver Coins*
42,000
2015 Blue Ridge Parkway 5 Oz Silver Coins*
45,000
2015 Bombay Hook 5 Oz Silver Coins*
45,000
2015 Saratoga 5 Oz Silver Coins*
N/A
N/A
45,000
35,800
9,200
45,000