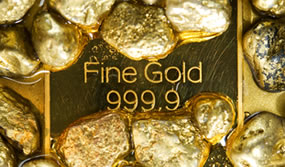 Gold closed lower on Friday to etch a fifth straight weekly decline but prices stayed above the more than 5.7-year low of a few days earlier.
Gold for December delivery shed $1.60, or 0.1%, to finish at $1,076.30 an ounce on the Comex division of the New York Mercantile Exchange. Gold prices have seen pressure with U.S. dollar gains heightened under higher expectations of a rate hike in December.
"We're still negative and target $985 in the short run," Reuters quoted Dominic Schnider of UBS Wealth Management in Hong Kong. "The rationale is fairly clear. The Fed is going to hike, the dollar is going to see further strength and in that environment it's going to be fairly difficult to sustain current prices."
Gold edged down 0.4% on the week. As recently as Tuesday, the yellow metal ended at $1,068.60 an ounce, its lowest close since Feb. 8, 2010. Gold prices are 9.1% lower on the year.
In looking ahead to next week, Kitco News offers the following forecasts via their Wall Street vs. Main Street survey:
"There were 615 retail investors who participated in Kitco's online survey this week, and the sentiment was predominately negative on gold in the short term. The majority expect gold prices to make a move lower next week with 342 voters, or 56%, making bearish calls on the metal. The remaining 212 participants, or 34%, see higher prices, while 61 voters, or 10%, are neutral on prices for the week ahead.

However, market professionals came head to head with their bullish and bearish outlooks for gold next week. Of the 37 participants contacted, 10 responded, of which 4, or 40%, say prices should move up. The remaining 4, or 40%, are bearish while 2 participants, 20%, are neutral."
Silver for December delivery fell 13 cents, or 0.9%, to close at $14.10 an ounce. The precious metal ended just 2 cents higher than Wednesday when prices settled at their lowest level since Aug. 26. Silver futures slipped 0.8% on the week, and like gold, marked their fifth straight weekly loss. As for the year, prices are 9.6% lower than their final 2014 settlement at $15.60 an ounce.
In PGM futures on Friday and for the week:
January platinum fell $2.20, or 0.3%, to $855.90 an ounce, dipping 0.9% from a week ago.

Palladium for December delivery jumped $17.90, or 3.3%, to $558.90 an ounce, surging 3.6% on the week.
For the year, platinum has plunged 29.2% and palladium has plummeted 30%.
London Precious Metals Prices
London precious metals were mixed on Friday and for the week. In comparing London bullion prices from Thursday PM to Friday PM:
Gold dipped 85 cents to $1,081.75 an ounce.
Silver added 8 cents, or 0.6%, to $14.29 an ounce.
Platinum gained $10, or 1.2%, to $858 an ounce.
Palladium added $18, or 3.4%, to $551 an ounce.
Compared to a week ago prices, gold edged up less than 0.1% and palladium tacked on 1.7% while silver lost 0.7% and platinum fell 0.9%.
US Mint Bullion Coin Sales
United States Mint bullion demand remained robust this week with gold sales the strongest in 12 weeks and all available silver coins taken.
U.S. Mint gold sales rallied this week by 56,500 ounces, jumping 94.8% from last week and what was a two-month high at 29,000 ounces. This week's total is the highest since the one ended Aug. 28 when gold sales surged by 68,500 ounces for the best weekly tally of the year. Sales splits included 47,500 ounces in American Gold Eagles compared to 25,500 ounces previously and 9,000 ounces in American Gold Buffalo coins compared to 3,500 ounces previously.
In related news, the U.S. Mint announced on Tuesday that this year's one-tenth ounce $5 Gold Eagle sold out, and that no more would be produced. The one-quarter ounce $10 Gold Eagle sold out on Friday, Nov. 13.
Weekly sales of bullion American Silver Eagles advanced 900,000 ounces compared to the prior week's 1,107,500 ounces, the most since the week ended Aug. 21. For a second straight week, all of the Mint's weekly allotment of Silver Eagles was taken. Sales at 42,929,500 for the year continue at a record pace, up 5.3% from the same time in 2014. Last year when Silver Eagle sales ended at an annual record of just over 44 million, the bullion coins by Nov. 20, 2014 posted sales of 40,756,500.
Below is a listing of U.S. Mint bullion products with the number of coins sold during varying periods. Products with an asterisk (*) are no longer available.
US Mint Bullion Sales (# of coins)
Friday Sales
Last Week
This Week
Oct Sales
Nov Sales
YTD Sales
$50 American Eagle 1 Oz Gold Coins
0
21,000
39,000
26,000
64,500
610,500
$25 American Eagle 1/2 Oz Gold Coins
0
1,000
6,000
4,000
7,000
74,000
$10 American Eagle 1/4 Oz Gold Coins*
N/A
10,000
N/A
4,000
12,000
158,000
$5 American Eagle 1/10 Oz Gold Coins*
N/A
15,000
55,000
50,000
100,000
980,000
$50 American Buffalo 1 Oz Gold Coins*
0
3,500
9,000
10,500
17,000
198,000
$1 American Eagle 1 Oz Silver Coins
24,000
1,107,500
900,000
3,788,000
3,087,000
42,929,500
2015 Homestead 5 Oz Silver Coins*
N/A
35,000
2015 Kisatchie 5 Oz Silver Coins*
42,000
2015 Blue Ridge Parkway 5 Oz Silver Coins*
45,000
2015 Bombay Hook 5 Oz Silver Coins*
45,000