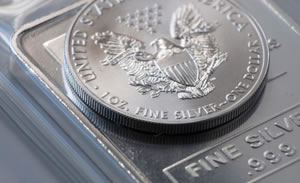 Gold and silver extended their losing streaks to three sessions on Friday, deepening their weekly losses. Gold ended at a more than 11-week low, posted a third straight week of declines, and moved into the red for the year.
On Friday, gold for August delivery fell $7.10, or 0.6%, to settle at $1,168.10 an ounce on the Comex division of the New York Mercantile Exchange. The settlement price is the weakest since March 18 when gold closed at $1,151.30 an ounce. The yellow metal was pressured, opined analysts, on a better-than-expected U.S. jobs report.
"The U.S. data triggered a break below important support levels of $1,175 and $1,170," Reuters quoted ActivTrades chief analyst Carlo Alberto de Casa. "The break lower caused the metal to exit that $1,170-$1,220 trading range in which it had been confined for many weeks, making it more vulnerable to further declines towards $1,150 and $1,131."
U.S. employers added 280,000 jobs in May, the biggest gain since December, the Labor Department said on Friday.
Gold's 1.8% weekly loss brought it down for the year by 1.4%. Looking ahead, Kitco News offers the following forecasts via their Wall Street vs. Main Street survey:
"This week, 350 people participated in Kitco's online survey, of those, 211, or 60% are bearish on gold next week; 106 or 30% are bull on prices next week and 33 voters or 10% are neutral."

"Out of 33 market experts contacted, 19 responded; of those, nine participants, or 47%, see lower prices, eight experts, or 42%, see lower prices and two, or 11%, are neutral on the gold market."
Last week, more participants from both groups expected that gold would rise this week.
Elsewhere, silver for July delivery shed 12 cents, or 0.7%, to settle at $15.98 an ounce. Silver prices plunged 4.3% on the week. With gold's weekly loss, silver stands alone among precious metals with a year-to-date gain. Silver prices are 2.5% higher than their 2014 closing of $15.60 an ounce.
In other precious metals futures on Friday and for the week:
July platinum shed $7.20, or 0.7%, to $1,092 an ounce, falling 1.8% from a week ago.

Palladium for September delivery settled down $4.35, or 0.6%, to $750.95 an ounce, dropping 3.4% on the week.
The pair has logged sharp declines for the year so far — 9.7% for platinum and 5.9% for palladium.
London Precious Metals Prices
London precious metals prices also declined on Friday and for the week. In comparing London bullion prices from Thursday PM to Friday PM:
Gold fell $11.40, or 1%, to $1,164.60 an ounce,
Silver lost 32 cents, or 1.9%, to $16.15 an ounce,
Platinum declined $8, or 0.7%, $1,092 an ounce, and
Palladium fell $8, or 1.1%, to $751 an ounce.
Weekly losses reached 2.3% for gold, 3.1% for silver, 2.1% for platinum and 4.1% for palladium.
US Mint Bullion Coin Sales in June
Last week, United States Mint bullion sales were atypically muted on every day but Friday. This week, sales advanced on all days but Thursday. The sales turnaround was sharp in more than that regard. Weekly gold coin sales were the highest in 11 weeks and silver coin sales the strongest since the week after the first 2015-dated American Silver Eagles launched in January.
In the latest weekly bullion sales comparisons:
Gold coins jumped 15,000 ounces — the most since the week ended March 20 when 16,000 ounces sold, after climbing 9,000 ounces in the prior week. Splits were 12,000 ounces in American Gold Eagles compared to 6,500 ounces previously and 3,000 ounces in American Gold Buffalo coins compared 2,500 ounces previously.

Silver coins shot up 975,000 ounces after rising 375,000 ounces in the previous week. For a fourth week in a row, all sales came from American Silver Eagles since the released 2015-dated America the Beautiful Five Ounce Bullion Coins have sold out. The next five-ounce coin will not launch until June 22. This week was the first full one of the year without Silver Eagle rationing.
Below is a listing of U.S. Mint bullion products that shows the number of coins sold during varying periods. Products with an asterisk (*) are no longer available.
US Mint Bullion Sales (# of coins)
Friday
Last Week
This Week/June
May Sales
YTD Sales
$50 American Eagle 1 Oz Gold Coins
6,500
4,000
10,500
13,500
146,500
$25 American Eagle 1/2 Oz Gold Coins
0
1,000
0
3,000
32,000
$10 American Eagle 1/4 Oz Gold Coins
0
4,000
0
10,000
58,000
$5 American Eagle 1/10 Oz Gold Coins
0
10,000
15,000
40,000
320,000
$50 American Buffalo 1 Oz Gold Coins
1,500
2,500
3,000
9,500
78,500
$1 American Eagle 1 Oz Silver Coins
50,000
375,000
975,000
2,023,500
17,921,000
2015 Homestead 5 Oz Silver Coins*
–
35,000
2015 Kisatchie 5 Oz Silver Coins*
–
12,000
42,000