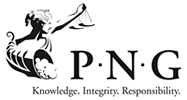 Extensive multi-media classes are now available online to collectors and dealers, the Professional Numismatists Guild (PNG) has announced.
Developed by Karl Newman in conjunction with the University of Rare Coins and PNG's Edward C. Milas School of Numismatics, there are two course levels:
The Level 100 course provides broad-based basic knowledge about numismatics. Topics include purchasing, selling, marketing and auctions; third-party certification; coin shows; and numismatic organizations and industry resources.

Level 200 topics include metallurgy and technology in the science of numismatics; the minting process and errors; and the history of monetary systems and development of coining.
These online classes were originally created only for participants in PNG's internship mentoring program.
"We are making these available online to anyone who wants to increase their knowledge of numismatics, from the minting process to the business of buying and selling coins," explained PNG Executive Director Robert Brueggeman.
The enrollment fee is $300, with pricing including both classes, and those who pass the two levels will receive Certificates of Completion.
For more information, visit www.PNGdealers.org, call (951) 587-8300 or email internship@PNGdealers.org.