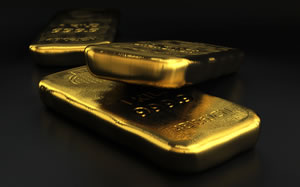 Gold and silver futures declined for the first time in six sessions on Friday, yet still posted very healthy weekly gains.
Slipping from a four-month high, gold for December delivery declined $4.40, or 0.4%, to settle at $1,183.10 an ounce on the Comex division of the New York Mercantile Exchange.
"Gold is down a bit after U.S. inflation data turned down the heat on the yellow metal, putting some support under the dollar," MarketWatch quoted Adam Koos, president of Libertas Wealth Management Group.
The U.S. Labor Department on Thursday said inflation fell in September but core consumer inflation over the last year moved up to 1.9% from 1.8% — closing in on the Fed's 2% annual inflation target.
Gold prices tacked on 2.4% for the week, their fourth weekly increase in five weeks with this one the second in a row. The precious metal also trimmed its losses on the year to $1, or less than 0.1%. On Thursday, gold closed at its highest price since June 19.
Looking ahead to next week, Kitco News offers the following forecasts via their Wall Street vs. Main Street survey:
"This week, 288 people participated in Kitco's online survey. Of those participants, 225, or 78%, are bullish on gold next week; 45 people, or 16%, are bearish; and 18 people, or 6% are neutral.

However, although sentiment among market professionals remained bullish for gold over the longer term, short-term outlooks remained mixed. Out of 35 market experts contacted, 15 responded, of which eight, or 57%, said they expect to see higher prices next week. At the same time, five professionals, or 29%, are bearish on gold, and two participants, or 14%, remain neutral."
Falling from a four-and-a-half-month high, silver for December delivery shed a nickel, or 0.3%, to close at $16.11 an ounce. Silver prices advanced 1.9% on the week after soaring 3.6% last week. On Thursday, silver closed at its highest level since June 3. On the year so far, the precious metal is 3.3% higher.
In PGM futures on Friday and for the week:
January platinum added $16.70, or 1.7%, to $1,023.70 an ounce, jumping 4.3% from a week ago.

Palladium for December delivery lost $5.60, or 0.8%, to $699.40 an ounce, falling 1.2% on the week.
For the year, platinum is down 15.4% and palladium is off 12.4%.
London Precious Metals Prices
London precious metals were mixed on Friday and for the week. In comparing London bullion prices from Thursday PM to Friday PM:
Gold fell $3.40, 0.3%, to $1,180.85 an ounce.
Silver dropped 14 cents, or 0.9%, to $16.04 an ounce.
Platinum added $19, or 1.9%, to $1,007 an ounce.
Palladium fell $5, or 0.7%, to $703 an ounce.
Palladium also declined on the week, down 2.8%. The other metals advanced from a week ago — gold by 2.5%, silver by 0.3%, and platinum by 3%.
US Mint Bullion Coin Sales in October
Fewer United States Mint silver and gold coins sold this week.
U.S. Mint gold sales advanced 9,500 ounces, diving 61.2% from last week's 24,500 ounces. Sales splits include 8,000 ounces in American Gold Eagles compared to 17,500 ounces previously and 1,500 ounces in American Gold Buffalo coins compared to 7,000 ounces previously.
The U.S. Mint limited American Silver Eagle sales this week to 1 million coins, down from last week's allocation of 1,075,000 coins. Authorized distributors ordered 930,000 this week. It is the first time the entire weekly allocation was not claimed since the Mint started limiting sales of the coins after their return from a suspension in July.
Still, Silver Eagle sales at 38,059,500 for the year remain on a record pace, up 8.1% from the same time in 2014. Last year when sales ended at an annual record at 44,006,000, the coins by Oct. 16, 2014 posted sales of 35,201,000. The U.S. Mint also limited Silver Eagle sales last year but not during the summer months.
Below is a listing of United States Mint bullion products with the number of coins sold during varying periods. Products with an asterisk (*) are no longer available.
US Mint Bullion Sales (# of coins)
Friday Sales
Last Week
This Week
Sept Sales
Oct Sales
YTD Sales
$50 American Eagle 1 Oz Gold Coins
0
13,500
6,500
98,500
20,000
540,000
$25 American Eagle 1/2 Oz Gold Coins
0
2,000
0
9,000
2,000
65,000
$10 American Eagle 1/4 Oz Gold Coins
0
4,000
0
20,000
4,000
146,000
$5 American Eagle 1/10 Oz Gold Coins
5,000
20,000
15,000
175,000
35,000
865,000
$50 American Buffalo 1 Oz Gold Coins
500
7,000
1,500
22,000
8,500
179,000
$1 American Eagle 1 Oz Silver Coins
43,000
1,075,000
930,000
3,804,500
2,005,000
38,059,500
2015 Homestead 5 Oz Silver Coins*
–
35,000
2015 Kisatchie 5 Oz Silver Coins*
–
42,000
2015 Blue Ridge Parkway 5 Oz Silver Coins*
–
45,000
2015 Bombay Hook 5 Oz Silver Coins*
–
45,000
–
45,000