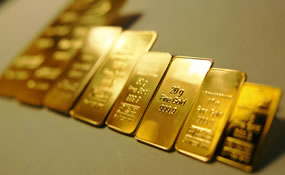 Gold futures settled lower on Tuesday for a third session in a row while silver rebounded modestly from its prior day loss.
Gold for December delivery declined $4.90, or 0.4%, to close at $1,126.80 an ounce on the Comex division of the New York Mercantile Exchange. Gold prices ranged from a low of $1,123.50 to a high of $1,134.30. They declined on Monday by $13.90 or 1.2%.
While gold and silver "continue to consolidate, they are moving as a monetary asset," MarketWatch quoted Julian Phillips, founder of and contributor to GoldForecaster.com. "To us, it is reminiscent to 2008 when gold fell back from its high of $1,200 as markets collapsed, before moving up to its peak of $1,921."

"The big questions remains, 'are we about to see a situation similar to 2008?'," he said. "Certainly, global market moods are pointing that way."
Silver for December delivery turned up nearly 4 cents, or 0.2%, to close at $14.57 an ounce. Silver prices traded between $14.46 and $14.70. On Monday, they tumbled 57 cents or 3.8%.
In other precious metals futures on Tuesday:
January platinum fell $4.40, or 0.5%, to $918.10 an ounce, ranging from $899.60 to $921.80.

Palladium for December delivery gained $5.85, or 0.9%, to $657.70 an ounce, trading between $638.20 and $659.65.
London Precious Metals Prices
Earlier fixed London gold and silver prices were mixed. In comparing their prices from Monday PM to Tuesday PM:
Gold edged up $1.05, or 0.1%, to $1,132.10 an ounce.
Silver slipped 14 cents, or 1%, to $14.56 an ounce.
LBMA platinum and palladium prices are available on the LBMA's website with a delay of midnight.
US Mint Bullion Coin Sales in September
United States Mint bullion sales posted increases of 3,000 ounces in gold coins and 354,000 ounces in silver coins.
Sales splits in gold coins include 2,500 ounces in American Gold Eagles and 500 ounces in American Gold Buffalo coins.
On the silver front, the U.S. Mint on Monday released the fourth 2015 America the Beautiful Five Ounce Silver Bullion Coin. It sold out on Tuesday. The coin features a design honoring Bombay Hook National Wildlife Refuge in Delaware. Sales debuted at 35,600 coins. Another 9,400 moved on Tuesday for the sellout at 45,000 coins.
Demand for the 5-ounce series has surged this year, with sales the highest since coins from 2011. The U.S. Mint expects to release the last 2015-dated ATB bullion coin on Nov. 30, 2015. It will honor Saratoga National Historical Park in New York.
Sales of American Silver Eagles are again maxed for the week. The U.S. Mint has limited sales of the coins since temporarily running out of them in early July. The agency allocated 1 million for this week and the last batch sold on Tuesday. With those gains, Silver Eagle sales for the year hit 36,054,500 coins — a record pace, up 14.5% through the same time in 2014. Last year when sales ended at an annual record totaling 44,006,000, the coins by this time reached sales of 31,486,000.
Below is a listing of United States Mint bullion products with the number of coins sold during varying periods. Products with an asterisk (*) are no longer available.
US Mint Bullion Sales (# of coins)
Tuesday Sales
Last Week
This Week
August Sales
Sept Sales
YTD Sales
$50 American Eagle 1 Oz Gold Coins
2,000
12,500
8,000
78,500
97,000
518,500
$25 American Eagle 1/2 Oz Gold Coins
0
2,000
0
8,000
8,000
62,000
$10 American Eagle 1/4 Oz Gold Coins
0
4,000
2,000
24,000
18,000
140,000
$5 American Eagle 1/10 Oz Gold Coins
5,000
55,000
5,000
130,000
170,000
825,000
$50 American Buffalo 1 Oz Gold Coins
500
3,000
1,500
20,000
21,000
169,500
$1 American Eagle 1 Oz Silver Coins
307,000
750,000
1,000,000
4,935,000
3,804,500
36,054,500
2015 Homestead 5 Oz Silver Coins*
–
35,000
2015 Kisatchie 5 Oz Silver Coins*
–
42,000
2015 Blue Ridge Parkway 5 Oz Silver Coins*
–
45,000
2015 Bombay Hook 5 Oz Silver Coins*
9,400
N/A
45,000
N/A
45,000
45,000